In a beautifully written memoir full of vignettes, McCord gives readers glimpses of the people and culture of Afghanistan through her eyes as a Christian NGO.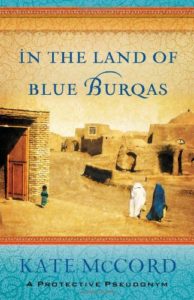 *In the Land of the Blue Burqas by Kate McCord.  Moody Publishers,2012.  320 pages.
Reading Level:  Adult (Ages 16 and up)
Recommended For: Teens/Adults (Ages 15 and up)
 What is it like to live as a foreigner in a culture that is antithetical to your own?  McCord spent five years living in Afghanistan.  She realized during her time there that Afghan culture had no framework for her —a single Christian woman.  Yet, McCord didn't give up.
With love and winsomeness, McCord shares glimpses of life and helps readers understand the complex culture of Afghanistan.  As she discovered, faith was always the second conversation.
The first [conversation] is different for men and women.  For men, the most interesting conversation is about government and war.  For women, the first most interesting conversation is marriage and family.  But the second great conversation is always about faith and our practice.
While these first conversations are shared, McCord learned to turn conversations to her faith and to share what she believed through stories.  She doesn't shy away from the stark differences she encountered —she never met a woman in Afghanistan who had not been beaten by her husband.  Yet, through the medium of stories, McCord helped her Afghan friends see a glimpse of the God of the Bible . . . . the reason and faith behind her convictions.
It's fascinating to see the power of God's word through the pages of the book.  McCord came to realize that,
So many stories in the New Testament are absolutely stunning in the context of Afghanistan.  They require little, if any, interpretation but instead speak directly and plainly to Afghan listeners.
Again and again, McCord relates encounters where she was able to share her faith.  As she does, she draws you into her life: sweltering heat, bone-numbing cold, endless cups of tea, a desolate landscape and a people hungry for stories and hope.
Reading her stories, one can wonder why she didn't share more.  Why didn't she see a harvest?  Could she have seen a harvest if she had spoken more?  We will never know.  But when was the last time we, in America, shared our faith and beliefs as clearly as McCord did, in a hostile land?
Afghanistan is a dark country, wracked by wars and broken by bitterness and hatred.  McCord's memoir shines with Truth and the Gospel.  She understands that the love of God is possibly the greatest difference and distinctive of Christianity.
For readers mature enough to face the darkness of a hostile culture and frank mentions to hardness, famine, death, bombings, and hatred, let alone constant challenges to faith, this is an excellent book, compellingly and evocatively written.  For anyone seeking to better understand life and worldview in the Middle East from a Christian perspective, this is a must read.
Cautions: See above
Overall Rating: 5
Artistic Rating: 5
Worldview Rating: 5
More than 75 books for children and teens, all about islands, oceans, and more. Bonus: get a free hand-drawn reading tracker!
Reading Ahead for You
Reviews and Resources Weekly in Your Inbox