A father-daughter hike from Phantom Ranch to the south rim of Grand Canyon reveals its geological wonders.
Grand Canyon by Jason Chin.  Roaring Brook, 2017, 56 pages.
Reading Level: Picture Book, ages 8-10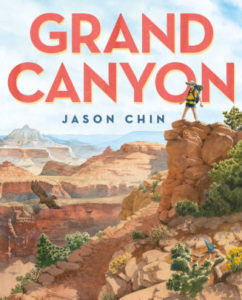 Recommended for: Ages 8-up
In the opening pages of this beautiful picture book, a mountain lion makes its way down from the north rim to the inner Gorge of Grand Canyon, skirting the campsite where a man and his daughter greet the first light of dawn.  Soon the humans are on the trail.  There's a lot of ground to cover: seven miles of rough pathway rising over 5000 feet.  Along the way they pause to spot wildlife and examine the strata and fossils.  Some of these will project the girl millions of years into the speculative past when tidal flats, ocean, or dry blowing sand covered that piece of earth.
Grand Canyon is a 2018 Caldecott honor book.  The text is a bit dry—no dialogue or story pertains to the hikers, just the canyon, whose evolutionary story gets the dramatic treatment.  Its carving by water over millions of years is, of course, is the accepted explanation version of how it came to be.  But the breathtaking pictures testify to the glory of God.  Whatever your convictions about evolution, young earth, or old earth, Grand Canyon could be a valuable gateway to exploring the mystery.
Other books by Jason Chin we've reviewed: Water Is Water and Gravity.
Cautions: world view (strong evolutionary slant)
Overall rating: 3.75 (out of 5)
Worldview/moral rating: 2
Artistic rating: 5
Support our writers and help keep Redeemed Reader ad-free.