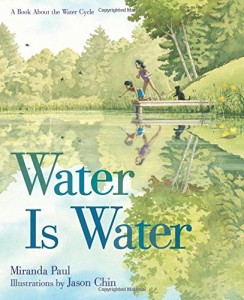 *Water is Water: A Book About the Water Cycle by Miranda Paul and illustrated by Jason Chin. Roaring Brook Press, 2015. 40 pages.
Reading Level: Picture books, ages 4-8
Recommended For: Ages 0-10
Most books about the water cycle show the classic diagram of ocean/lake, clouds, and land, using technical terms such as evaporation, condensation, and precipitation. In contrast, Water is Water offers a simple, lyrical text that describes what happens to the water in a drinking cup as it travels through the entire water cycle–ending with the juice from an apple. For example,
Clouds are clouds unless… they form low.

Misty. Twisty. Where is the town? Fog is fog unless…it falls down.

Patter. Splatter. What is that sound? Rain is rain unless…
Marvelous watercolor illustrations depict a brother and sister drinking, riding a school bus, playing in the mud, having a snowball fight, and, finally, drinking apple cider. Each season subtly blends into the next visually even as the text draws the reader onto the next phase in the water cycle. End matter includes more scientific terminology and information. What a marvelously intricate water cycle the Lord has put into place!
Cautions: Worldview (1 mention of millions of years in end matter)
Overall Rating: 4.75 stars
Worldview Rating: 4.75
Artistic Rating: 5
Categories: Picture Books, Starred Review, Nonfiction, Science
*indicates starred review; cover image from amazon
Support our writers and help keep Redeemed Reader ad-free.