75 years later, this Newbury-Award winning story about Johnny Tremain is still a great historical fiction read about the birth of America.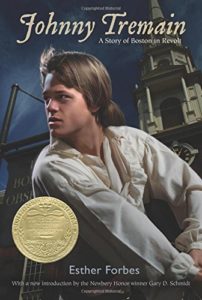 *Johnny Tremain by Esther Forbes. HMH Books, 2011 (originally published 1943). 320 pages.
Reading Level: Middle grades, ages 10-12
Recommended For: All ages as a read aloud, ages 10 and up as an independent read
We die so another man can stand up. This ringing sentiment espoused by James Otis near the end of Johnny Tremain sums up the driving force behind the brave acts the Sons of Liberty and the Minute Men performed during America's birth. It also sums up some of Johnny Tremain's own transformation throughout the book. Initially apprenticed to Mr. Lapam as a promising, but prideful, silversmith, Johnny must find his own way when his hand gets burned too badly to allow him to perform the delicate silver work of which he was so proud. He is befriended by Rab, nephew of Mr. Lorne, the printer of The Boston Observer, a paper staunchly dedicated to the cause of America's liberty. As Johnny gets to know the Sons of Liberty and runs messages for Mr. Lorne, his own character is shaped by the sacrifices and sentiments of those around him, not least of which come from the Sons of Liberty meetings he attends. As he hears John Adams, Samuel Adams, Paul Revere, Dr. Warren, and James Otis discuss sacrifice for their country–and why they are willing to put up a fight–Johnny matures and grows in his own willingness to serve others.
Johnny Tremain is 75 years old this year, and it is still one of the best historical fiction novels about the American Revolution. Johnny himself isn't a terribly likable character, particularly at the beginning. But despite his arrogance, readers root for him anyway, and they are just as sad as Johnny is when his friend Rab pays the ultimate sacrifice for his country. Books written 75 years ago don't read as "fast" as today's novels; some readers will feel Johnny Tremain lags a bit, particularly in the middle. (Audio versions are a good option for titles like this!) This reader wishes Johnny had matured just a bit more by the end of the book. Nonetheless, Johnny Tremain is a terrific read about a terribly important time in our country. It will help readers gain a feel for Boston and the role it played, but the book will also provide food for thought on the whys behind America's struggle for liberty. Forbes shows readers that the fight was against tyranny even more than Britain herself. Ask young readers what it means to die so that another can stand up. What is our calling, as Christians, in regard to protecting others' liberty? What kind of bravery does it take to stand up to the British regulars–even without firing a shot?
Cautions: language (very occasional)
Overall Rating: 4.5
Artistic Rating: 4.25
Worldview Rating: 4.75
This novel is a particular favorite in school settings (home or traditional). For that reason, we recommend a few "curriculum-type" resources as well. The old Disney movie is a good one, albeit different in some significant ways from the book. Have students discuss the differences and ask them what difference(s) they make to the theme of the book. Educators might also be interested in Brave Writer's "Arrow" for Johnny Tremain. It contains some good discussion questions as well as book party ideas for when the book is finished. 
Don't miss our other Retro Reads!
More than 75 books for children and teens, all about islands, oceans, and more. Bonus: get a free hand-drawn reading tracker!
Reading Ahead for You
Reviews and Resources Weekly in Your Inbox