Gravity by Jason Chin. Roaring Brook Press, 2014. 32 pages.
Reading Level: Picture Books, 0-4, 4-8
Maturity Level: Same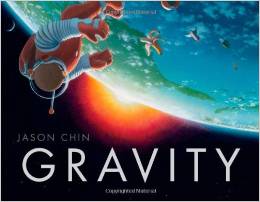 Gravity is a complex concept to explain to young children. Chin has tackled this challenge with aplomb, producing a beautifully illustrated, deceptively simple picture book that succinctly and effectively explains gravity to very young children. Illustrations fill in more information than the sparse text, and the ending of the book adds in a touch of humor. Fans of "meta" books such as Wiesner's Flotsam, Lehman's The Red Balloon, or Willems' We Are In a Book will enjoy a similar dynamic here: some of the characters in the book are also looking at other characters in the book (the actual book is pictured in the illustrations). Children will enjoy this twist at the ending, and it makes perfect sense in light of the principles of gravity. New readers may even be able to read the text on their own. Gravity is a wonderful topic to use to remind children that in Christ, all things hold together.
Cautions: none
Overall Rating: 4.5 out of 5
Worldview Rating: 4.5 out of 5
Artistic Rating: 5 out of 5
Categories: Read Aloud, Earth Science, Picture Books, Education
Cover image thanks to
Amazon
Support our writers and help keep Redeemed Reader ad-free.