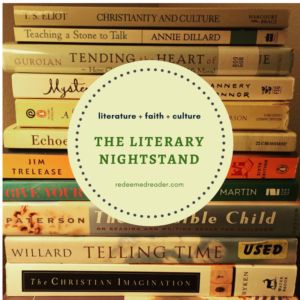 The Literary Nightstand: Our Professional Reading
The Literary Nightstand is a peek into what's on our professional nightstands. Most of us here at Redeemed Reader have been reading and studying children's literature for many years. This is our attempt to help sift the wheat from the chaff for our readers who want to learn more about children's literature in particular and the field of literary criticism in general.
We are all professing Christians, and that means something in the literary criticism world. We do not embrace all critical philosophies, we believe in absolute truth, we believe the Bible is still relevant and inerrant, and we believe that our ultimate goal in reading books with and for children is to know God better. (For more about what we believe, see our About page.)
The picture above is a sampling of one of our staff's collection–some of them have been heavily used over the years!
The Literary Nightstand List
The list below will be updated as we review books; it is only a sampling! Consider these books helpful guides when navigating the world of books. Books are alpha by title.
Support our writers and help keep Redeemed Reader ad-free.