Honey for a Teen's Heart applies the wisdom of Gladys Hunt's read-aloud approach to the adolescent years.  Adult
*Honey for a Teen's Heart: Using Books to Communicate with Teens, by Gladys Hunt and Barbara Hampton.  Zondervan, 2002, 288 pages plus index.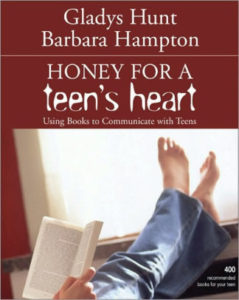 Recommended for: adults, especially parents and teachers
When Honey for a Child's Heart was first published, the 'Young Adult' publishing category barely existed.  Since then YA has become big business, with huge bestsellers leading to blockbuster movies.  Public libraries have carved out Teen Spaces with online access, gaming stations, and—in case the kids are inspired to read—stacks of books written with them in mind.  It's good that publishers recognize adolescence as an in-between space where teens need more challenging literature.  The books publishers are giving them to read are not so good.  Gladys and Barbara have a better idea:
What we are proposing in this book goes against [the] cultural grain.  This book talks about reading and listening to each other, talking about ideas.  It gives clues about how to do it. We believe it is possible to have a growing friendship with our children as they mature, rather than a growing alienation.  Parents and tens both profit from time spent in knowing each other and sharing feelings and ideas.
Most parents certainly want that, and most teens want that too (though they may not always show it).  Literature provides an ideal platform for communication: neutral yet personal.  A story, whether fictional or actual, is a kind of stage where life is acted out and the audience can respond, each individual in his own way.  Ideally your family sets aside time for reading books aloud, as we've recommended (and Read-Aloud Revival is all about).  Honey for a Teen's Heart is a practical guide for finding books, evaluating books, talking about books, stirring imagination through books, and getting the best from books (including the Bible).
Part 1 lays out the why's and how's, Part 2 (which comprises almost 2/3 of the content) contains an annotated list of over 400 books suitable for ages from early to late adolescence.  Scattered throughout are author profiles and short lists of titles geared to a particular interest or occasion.  Some of these are classics and others are more recent, but since the latest edition of Honey for a Teen's Heart was published in 2002, there are no recent titles.  That's where RedeemedReader.com comes in, and lists like this one.  And this one.  Honey is a good place to start, but we're here to help you continue!
Cautions: none
Overall rating: 5
More than 75 books for children and teens, all about islands, oceans, and more. Bonus: get a free hand-drawn reading tracker!
Reading Ahead for You
Reviews and Resources Weekly in Your Inbox