How do the classic children's stories awaken a child's moral imagination? And how does that awakening contribute to their spiritual development and training in virtue?
*Tending the Heart of Virtue: How Classic Stories Awaken a Child's Moral Imagination by Vigen Guroian. Oxford UP, 1998. 198 pages.
Reading Level: Adult
Recommended For: Adults interested in the literary power of stories
Once upon a time, there were two friends who shared a dorm room, drank lots of tea together, and waxed eloquent on the finer points of children's literature, particularly in the context of Truth and Story. One of those friends wrote several academic papers on George MacDonald and his glimpses of the power of the imagination. The other friend gave her this book because Guroian did the same thing… only more eloquently and learned-ly.
Fast forward a number of years, adding two husbands, multiple children, several academic degrees, and countless more stories, and those two friends are still drinking tea and discussing Truth and Story. Only now, you, dear reader, are privy to some of our conversations. We invite you to pour yourself a cup of tea whenever you sit down to read one of our blog posts or reviews!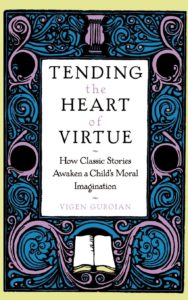 Tending the Heart of Virtue is a fascinating look at how children's literature–the best of children's literature–can awaken our imaginations and, in turn, position us for the working of the Holy Spirit. When a story is told beautifully ("Story") and contains real Truth, something magical seems to happen. Guroian doesn't use the terms Truth and Story to discuss this idea, but he does allude to the power of a well told story that reflects the essential truths of Creation and how God made us (and interacts with us).
Friendship, love, redemption, good v. evil, faith, courage, becoming a real boy–these themes are paramount to our understanding of who we are and who God is. And they are more easily communicated through story than through any other means. The Velveteen Rabbit, The Lion, the Witch, and the Wardrobe, The Wind in the Willows, Charlotte's Web, Pinocchio, Bambi, and so many more help cultivate the ground of our moral imagination, which in turn helps plant seeds for our spiritual imaginations to take hold of deep spiritual truths.
Can a story spiritually save a child? No.
Can our reading to a child spiritually save a child? No.
Can reading "the right books" spiritually save a person? No.
But can we participate in the Holy Spirit's work of softening a person's heart to ultimate truth? Perhaps. And yes.
Can we participate through the simple medium of a well told story? I think, yes.
Tending the Heart of Virtue makes these points firmly, albeit somewhat academically. If you are interested in the idea of reading stories through the lens of "moral imagination," then this book is for you. It's not a book to read in one sitting, but one to ponder, to discuss. It will make you want to reread the children's classics, to look at new children's books through a different lens. And bonus: he discusses George MacDonald's children's books at length.
MacDonald did not exaggerate the power of the imagination. Imagination is a power of discovery, not a power to create. The latter capacity he reserved for God alone. … For him, imagination is a power of perception, a light that illumines the mystery that is hidden beneath visible reality: it is a power to help 'see' into the very nature of things. Reason alone, MacDonald argued, is not able to recognize the mystery or grasp the moral quiddity of the world. As the sensible mind needs eyes to see, so reason needs the imagination in order to behold mystery and to perceive the true quality of things.
Guroian's book is an admirable accompaniment to Honey for a Child's Heart, and I think he and Gladys Hunt would have had such interesting conversations together. I wonder if they met?
This title is part of our Literary Nightstand series–books about books which help parents and teachers navigate the book world with their kids.
*Indicates a starred review.
More than 75 books for children and teens, all about islands, oceans, and more. Bonus: get a free hand-drawn reading tracker!
Reading Ahead for You
Reviews and Resources Weekly in Your Inbox