In rural Minnesota,  friendship and rolling pigeons combine in an enjoyable middle grade debut novel.  
Roll by Darcy Miller.  HarperCollins, 2017, 224 pages
Reading Level: Middle grades, ages 10-12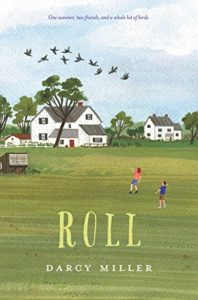 Recommended for: ages 10 & up
Ren's parents have moved to the country, 8 miles away from their small town in Minnesota, and 8 miles away from Ren's best friend. Eleven-year old Ren isn't excited: about unpacking, summer vacation, and certainly not about starting track this fall.  
Ren's attempts at running flag as he gets to know his neighbor, Sutton.  The same age, Sutton is raising rolling pigeons and facing her own dragons. A friendship grows over the summer, centered around Sutton's pigeons.
Geeky, earnest, and rather awkward, Ren is a great narrator. The story is well-told and highlights the importance of telling the truth, the power of friendship and family, and the pain of growing apart as you grow up. 
Roll is an all-American story.  The only thing that puts it in the 21st century caution-wise is a reference to Sutton's parents putting the horse before the cart and getting married young.  Refreshingly unpolitical, this is just a story about a boy, a girl, a summer, and quite a lot of pigeons! 
Cautions: (Sexuality: see above paragraph)
Overall rating: 4.5 (out of 5)
Worldview/moral value: 4.5
Artistic value: 4.75
More than 75 books for children and teens, all about islands, oceans, and more. Bonus: get a free hand-drawn reading tracker!
Reading Ahead for You
Reviews and Resources Weekly in Your Inbox