Sarah Mackenzie offers a welcome and updated look at making connections with your family through books in The Read-Aloud Family.
The Read-Aloud Family: Making Meaningful and Lasting Connections With Your Kids by Sarah Mackenzie. Zondervan, 2018.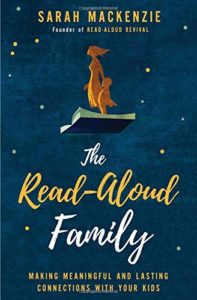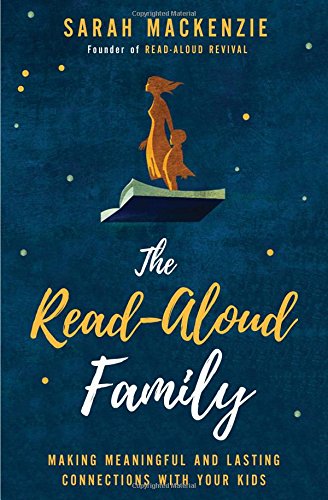 Is there room for another book about the importance of reading to your children? If you are a busy parent trying to figure out how to fit one more thing into your schedule (because you know it is important and feel guilty that you aren't doing enough–like me!), then you may find this book encouraging.
Well-known as the founder of Read-Aloud Revival, Sarah Mackenzie wrote this book from her experience as a homeschooling mom still in the trenches who is desperate to bond with her children. She offers a fresh voice, engaging writing style and practical suggestions to applying the principles found in Jim Trelease's Read-Aloud Handbook. Passionate about using reading and talking about books to build relationships with her kids, she uses book clubs as a model (food and open-ended questions rather than worksheets and reports). This takes the pressure off of what ought to be a pleasure and allows Truth to shine through Story.
I appreciate her honesty in admitting the books that didn't work for her and her willingness to allow her children to read books that aren't timeless classics. It takes time to develop those tastes, and part of the process is reading light fiction. Her priority is sharing many wonderful books with them in order to create a unique family culture. I can relate to tolerating some books (that aren't offensive, but not my personal taste), and delighting in quoting hilarious lines that few outside our family would even recognize.
Don't wait until the situation is ideal, you have the perfect book, and an uninterrupted hour to read to a captive audience. Grab a kid and a book and read just for fun, even if it is only for 10 minutes.
Book lovers will always be ready to validate their passion and add to their collection of booklists. Parents who long to enjoy relationships and books with their kids while trying to navigate the digital age will appreciate Sarah's insights, and weary moms will be encouraged not to give up. Highly recommended!
For more books about books that we recommend, check out the books on our "Literary Nightstand."
Thanks to the publisher for a advance copy in return for a fair review. This review is based on the advance review copy, so the lists and descriptions of Sarah's favorite books, as well as the index, were not in their final, usable format. But I certainly gleaned some titles for my "to read" list from the early chapters of the book!
More than 75 books for children and teens, all about islands, oceans, and more. Bonus: get a free hand-drawn reading tracker!
Reading Ahead for You
Reviews and Resources Weekly in Your Inbox