Garvey's Choice, a gentle verse novel, charts the course of an overweight African American preteen toward self-respect.
Garvey's Choice by Nikki Grimes.  Wordsong, 2016, 105 pages
Reading Level: Middle grades, ages 8-10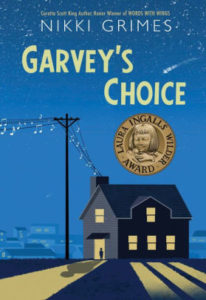 Recommended for: ages 8-12
Garvey loves reading, sci-fi, music, and StarTrek.  His dad loves sports (especially football) and can't hide his disappointment that Garvey hasn't an athletic bone in his rotund body.  Garvey salves his anxiety with Cheetoes.  Dad expresses his in sharp words.  Most of the kids at his school make fun of him, but thank God for friends.  Joe is the old friend, tried and true.  When Garvey goes out for choir he meets Manny, an albino who can teach him a thing or two about bullies.  But also about music.
Chorus.  The word sings./ It may not bring me closer/ to my dad, but still,/ chorus might be a way to/ fill in the puzzle of me.
Dad comes off as a stereotype at first but gradually takes on dimension.  Given today's culture, I was somewhat apprehensive that Garvey's choice would have something to do with his sexuality, but no.  It has more to do with the Cheetoes, and better health.  Since the story is told entirely in tanka verse (five lines with a syllable count) impressions win out over narrative.  Some of them seem a little overdone for an eleven-year-old, but many ring true, making this short book worth savoring as well as reading.
Manny tells me he/ was made in God's own image./ "God is beautiful,"/ he says.  So what's that make you/ and me? Do you get it, G?"
Cautions: none
Overall Rating: 4.25 (out of 5)
Worldview/moral value: 4
Artistic value: 4.75