Jason, an ordinary American boy, is summoned into a world that needs a hero. Original, highly imaginative, full of action and characters who are ready to give their lives for a worthy cause.
The Beyonders Trilogy by Brandon Mull. Aladdin Books. (paperback)
A World Without Heroes
Seeds of Rebellion
Chasing the Prophecy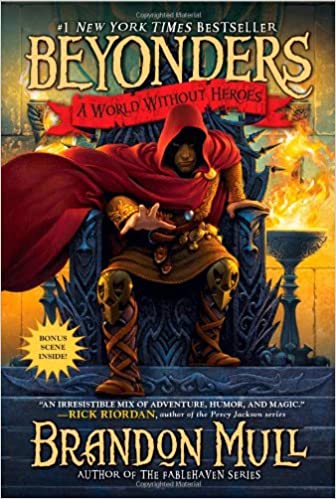 Reading Level: Teen/YA, Ages 12-15
Recommended For: Teen/YA, Ages 12-15
Jason is an ordinary American kid who is swallowed by a hippopotamus and pulled into Lyrian, a world that needs a hero. Before long he is sent on a quest to find the scattered secret syllables of a magic word that will destroy the evil wizard Maldor. Others who have tried were unsuccessful and paid the heavy price in Maldor's dungeon.
With the help of Rachel, a homeschooler who has also been drawn into Lyrian (though not via hippo), and their various interesting companions, they must survive a giant crab, a boiling lake, a battle of wits, a toxic swamp, a treacherous haven of luxury, assassins, and betrayal. By the end of the first book they realize that their quest has only just begun.
Although there are some horrifying images that may disturb sensitive readers we enjoyed all three audiobooks in the presence of the whole family, ages 4-13. (I don't think the younger ones were paying much attention.) Jason develops a boyish crush, but the interest remains pure.
Throughout the series, Jason remains an ordinary kid. He's not the best swordsman. He doesn't have special "edomic" powers like his friend. But he's clever, and he is the chosen one, whether he likes it or not. Even though Lyrian is not his home, Jason realizes that it is worth living and dying for. He develops close relationships with the various unusual races who join in the quest (seed people, displacers, half-giants, etc.), and is committed to their well-being with good humor and integrity. You could say that while his companions all have super powers, he doesn't need extraordinary gifts to succeed. His integrity, common sense, love of baseball, and acceptance of his calling are enough to win lasting honor.
The Beyonders trilogy is original, highly imaginative, full of action and characters who are ready to give their lives for a worthy cause.
Considerations:
Overall Rating: 4.75 out of 5
Worldview/Moral Rating: 5 out of 5
Literary/Artistic Rating: 4.5 out of 5
Related Reading From Redeemed Reader (H3)
We are participants in the Amazon LLC affiliate program; purchases you make through affiliate links like the one below may earn us a commission. Read more here.
Support our writers and help keep Redeemed Reader ad-free.