*The View From Saturday by e. l. konigsburg. Atheneum, 1995. 176 pages.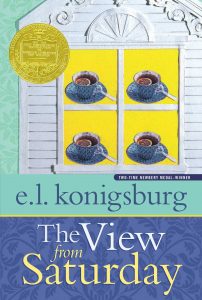 Reading Level: Middle grades, ages 10-12
Recommended For: Middle grades and up, ages 10+
Fact: Mrs. Olinski's sixth grade Academic Bowl team, the Souls, is the best Epiphany Middle School has ever had.
Fact: Noah, Ethan, Nadia, and Julian make up the Souls.
And fact: Each of the four students and Mrs. Olinski is indispensable to the team.
The View From Saturday is not told as a linear story. Instead, readers meet Noah just after he answers a challenging Academic Bowl question. Noah, in his own voice, takes readers back to the summer when he ended up being best man at someone's wedding at his grandparents' retirement village. Fast forward to question number 2 at the Academic Bowl. Nadia answers and takes readers back to the summer (but later than Noah's story) to discuss all things turtles, family, and one particular wedding: her grandfather and his new bride. If that sounds like too much of a coincidence, you're right: this is the same pair of grandparents for whom Noah acted as best man. It's not confusing in the least, however.
In fact, konigsburg manages to weave 5 different stories together (Mrs. Olinkis's, Nadia's, Ethan's, Noah's, Julian's) into one beautiful work of art, much as the five different individuals come together to form a true team. Each character has a unique backstory, each character overlaps with the others in unexpected ways, and each character brings unique strengths to the table–literally. The four children meet on Saturdays at Julian's father's B&B to practice quiz questions and drink a slow cup of tea. Eventually, Mrs. Olinski joins them.
The View From Saturday is a smart book for smart kids. konigsburg raises as many questions as she answers. Readers will have to make some of the connections on their own, but the reward is worth it. The subtle reminders to be kind, to withhold judgment until you get to know someone, to be a true team player and to be yourself are pitch perfect for upper middle school. It's not a hard leap to draw out connections to both Providence at work (look at all those "coincidences"!) as well as to how to love our neighbor. Highly recommended.
Considerations:
Although the characters in this book are sixth graders, older readers will also enjoy it–perhaps even more. There are a couple of comments that mention things like a bra strap, so some parents may wish their upper elementary children to wait until sixth grade themselves before diving in.
This book is outstanding in audio!
Overall Rating: 4.75 out of 5
Literary/Artistic Rating: 5 out of 5
Worldview Rating: 4.5 out of 5
*indicates starred review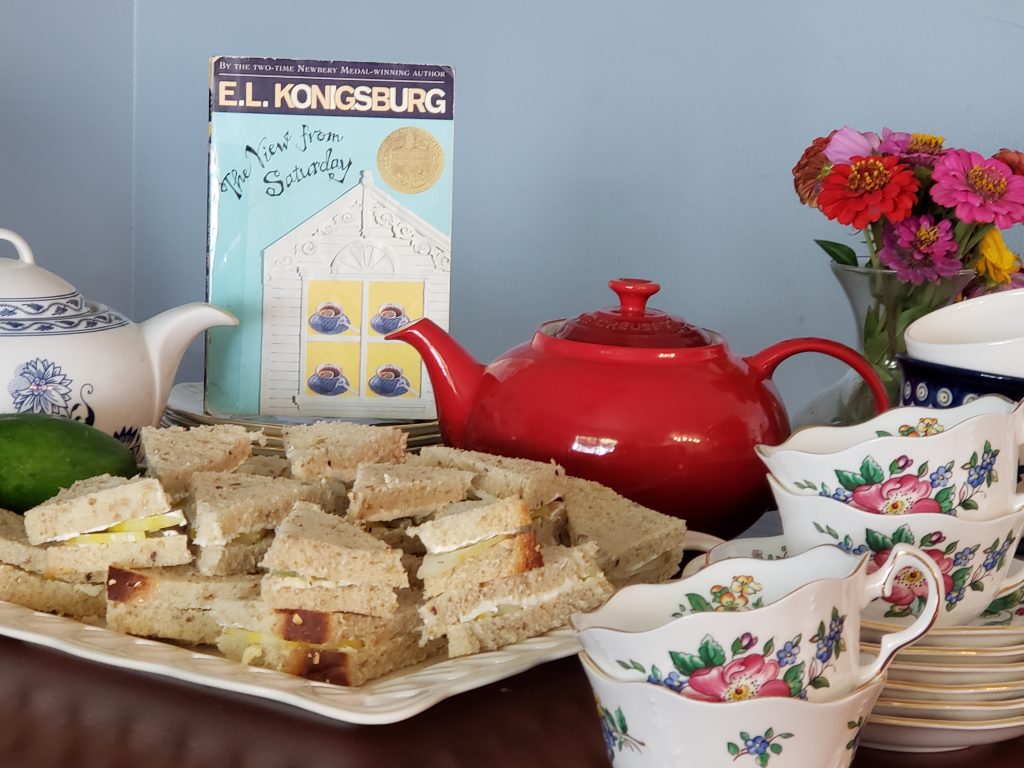 Book Club Edition
A book like The View From Saturday works so well as a book club selection: it's short enough that it works for a variety of reading levels/interest. The varied characters' voices will connect with a variety of readers. And the open questions in the book (like that final page!) will draw out good discussion. Be sure to serve tea with this book; no other snack will do.
Here are a few book-specific questions to tackle:
Who is the MAIN character (protagonist) in this book? This should generate some interesting discussion!
Why do you think e. l. konigsburg wrote the story the way she did: alternating viewpoints/overlapping timelines instead of a more traditional beginning-middle-end approach? Do you like it? How would it have been different if told more traditionally?
A lot of people like to talk about diversity today. What are some of the ways the characters in this book are "diverse"? Does this make the story more effective or less?
How does this story show people loving their neighbor(s)? How can we love our own neighbors? (And, who is our neighbor?)
Related Reading from Redeemed Reader
Have you read The View from Saturday? What did you think?
We are participants in the Amazon LLC affiliate program; purchases you make through affiliate links like the one below may earn us a commission. Read more here.
Support our writers and help keep Redeemed Reader ad-free.