"Don't judge a book–or a 5th grader–by its cover" is the message that comes through loud and clear in this heart-warming middle grades title.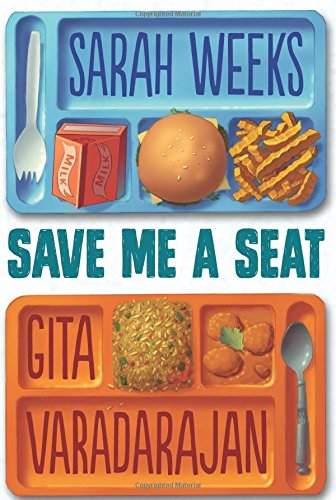 Save Me a Seat by Sarah Weeks and Gita Varadarajan. Scholastic, 2016. 240 pages.
Reading Level: Ages 10-12
Recommended For: Ages 8-12 (and up!)
Ravi (pronounced Ra-VEE) and his family are newly arrived from India. On the first day of fifth grade, he arrives at his new school, proud of his ability to speak English, ready to show off his excellent "school" skills, and eager to make new friends. Setting his sights on the other Indian-American boy in his classroom, Ravi is ready for a great year. Until the other boy is a jerk. And Ravi's sent to the Resource Room because his English isn't good enough. And the way he learned to do school in India is not the way this school operates. And they serve meat in the cafeteria. Joe is a pro at the Resource Room, loves the cafeteria and its food, already knows the other guy is a jerk, and just wants to survive another year.
Told in alternating viewpoints (by two authors), this is the story of how small things can bring people together: small acts of kindness, small attempts to understand each other, and small steps of bravery. Ravi's Indian family a delight as his mother and grandmother fuss over him and his grandfather helps him understand who he really is. Joe and Ravi form a firm friendship by the end of the book, but the journey is in the details. A fantastic title for new 5th graders–and all middle school students–as they, like Ravi and Joe, have countless opportunities to be friends to those around them. Bonus: the recipes at the end of the book are worth trying!
Cautions: none
Overall Rating: 4.25
Worldview Rating: 4.5
Artistic Rating: 4
Reading Ahead for You
Reviews and Resources Weekly in Your Inbox