Growing dragons in Grandad's garden leads to predictable hijinks in this light-hearted series opener.
The Boy Who Grew Dragons by Andy Shepherd, illustrated by Sam Ogilvie. Yellow Jacket, 2020, 212 pages.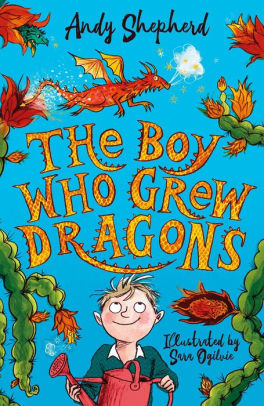 Reading Level: middle grades, 8-10
Recommended for: ages 7-11
Tomas' close relationship to his grandfather extends to working in Grandad's garden. But even Grandad can't identify the cactus-like plant with oblong fruit and spiky pineapple-like leaves. A bit of internet research identifies the plant as pitaya, or dragonfruit. (I looked it up myself; it's an actual plant.) Interesting—but even more interesting when the pod Tomas took home swells, glows, and hatches into a real, sparkly, sneezing—and pooping—dragon. A small one that bonds to Tomas right away. Even small dragons can be no end of trouble, and like puppies, they poop everywhere, with the added factor of possible combustion. Still, having a real dragon for a pet is irresistible, if only Tomas can keep Flicker a secret while he figures things out.
Tomas is an appealing narrator ad his relationship with his grandfather and little sister add a nice layer of family warmth to the story. Though the plot unfolds in rather standard fashion with a grumpy neighbor and a mean classmate, humor keeps the pages turning. The story ends on a bit of a cliffhanger, indicating further adventures (and more dragons) to come.
Overall Rating: 3.75 (out of 5)
Worldview/moral value: 3.5
Artistic/literary value: 4
We are participants in the Amazon LLC affiliate program; purchases you make through affiliate links like the one below may earn us a commission.Read more here.
Also at Redeemed Reader:
More than 75 books for children and teens, all about islands, oceans, and more. Bonus: get a free hand-drawn reading tracker!
Reading Ahead for You
Reviews and Resources Weekly in Your Inbox