Allies is a fast, riveting read that communicates the urgency, complexity, and drama of D-Day, the turning point of World War II.
Allies by Alan Gratz. Scholastic, 2019, 307 pages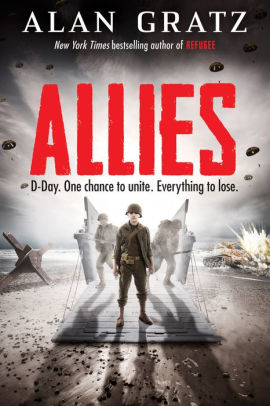 Reading Level: Middle Grades, ages 10-12
Recommended for: ages 12-16
Operation Overlord, otherwise known as D-Day, was the largest seaborne invasion in history, involving almost 25,000 paratroopers and 160,000 soldiers from eight countries. This vast company is represented by the personal stories of a Canadian paratrooper, a British tank driver, a Moroccan French partisan, and a number of American boys, beginning with sixteen-year-old "Dee" Carpenter. He fudged his birth certificate to get in the fight, but he fudged something else, too: his real name is Dietrich Zimmerman, and he was born in Germany. That's something he dares not tell his best buddy Sid Jacobstein, who has sworn to kill every German he finds. Their story is the main plot thread weaving through the narrative, but D-Day itself is the plot, once the boys' Higgins boat discharges them a few fatal feet short of Omaha Beach.
If there's any way to tell this story in a way that's appropriate for middle-graders, Allies is it. As any WWII buff knows, the Omaha Beach landing was a disaster of almost unbelievable carnage. Readers will get that message without wallowing in blood and gore or foul language (see Considerations, below). The riveting action moves as fast on the page as it probably did in real time, with Yanks and Brits too busy protecting themselves and each other to dwell on gruesome battle wounds. Though paratrooper James McKay continually wonders "What the hell am I doing here?" and medic Henry Allen suffers the same racial slights in Normandy as he did at home, by the end of "The Longest Day" it's clear that this was a war that had to be fought and an enemy that had to be stopped. To that end, ordinary guys came through with extraordinary courage. An extensive Author's Note at the end puts their personal experiences in context.
Considerations:
Though not overly graphic, the violence is intense and nonstop.
Mild profanity is scattered through the narrative, mostly "hell," and some "damn." Otherwise, "he cursed."
The author slights religious experience, which is well known to come to mind at times of extreme existential danger. No one cries out to God, which at least some of them certainly would. That's one place where the realism fails.
Overall Rating: 4 (out of 5)
Worldview/moral value: 3.5
Artistic/literary value: 4.25
Also by Alan Gratz: Projekt 1067 and Refugees. For history buffs, see our "Heroes of WWII: a Booklist for Tweens and Teens."
We are participants in the Amazon LLC affiliate program; purchases you make through affiliate links like the one below may earn us a commission. Read more here.
Stuck at home? Enjoy our FREE Christian read-along adventure for all ages with lots of book ideas, discussion questions, and more!
Reading Ahead for You
Reviews and Resources Weekly in Your Inbox