Treaties, Trenches, Mud, and Blood by Nathan Hale. Amulet, 2014. 128 pages.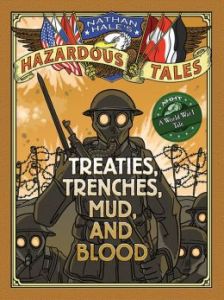 Reading Level: Middle Grades, ages 10-12
Maturity Level: 4 (age 10 and up)
This is the fourth volume of "Nathan Hale's Hazardous Tales," all of which employ the author's namesake (the heroic Revolutionary-War spy) as narrator for some dark, dramatic chapters in history. Here Mr. Hale tackles "The Great War" with the help of two sidekicks who first appeared in the original 2010 episode, One Dead Spy. These are the Hangman and the British Provost who oversaw Hale's execution. If it sounds grim, it's not—in fact, the first few pages are almost too silly. Because the Hangman wants the story to include animals ("The readers of this book want cute little hat-wearing animals too. Don't you, readers? PLEEEEEEASE?"), the nations involved in the conflict are shown as British bulldogs, German eagles, Russian bears, and American bunnies (The hangman isn't too happy about the bunnies, but America entered the war late, after eagles were already taken). In the midst of hijinks and overt symbolism, the narrative tells the overall history of the Great War accurately and imaginatively, with a strong (and mostly serious) conclusion. Middle-graders and older can learn a lot, and end up with a serviceable outline of the war in their noggins.
Cautions: Dark/Depressing Elements (WWI was just a terrible event; there's no getting around it), Visually Problematic (some frightening images of a satanic "god of war")
Overall Value: 3.75 (out of 5)
Worldview/moral value: N/A
Artistic value: 3.75
Categories: Middle Grade, Nonfiction, History, World War I, Graphic Nonfiction, World War I
More than 75 books for children and teens, all about islands, oceans, and more. Bonus: get a free hand-drawn reading tracker!
Reading Ahead for You
Reviews and Resources Weekly in Your Inbox