The true story of John Wesley Powell, "Major Impossible" who mapped the Grand Canyon, told in graphic novel format.
Major Impossible (Nathan Hale's Hazardous Tales #9) by Nathan Hale. Amulet, 2019. 128 pages.
Reading Level: Middle grades, ages 10-12
Recommended For: Middle grades, ages 10+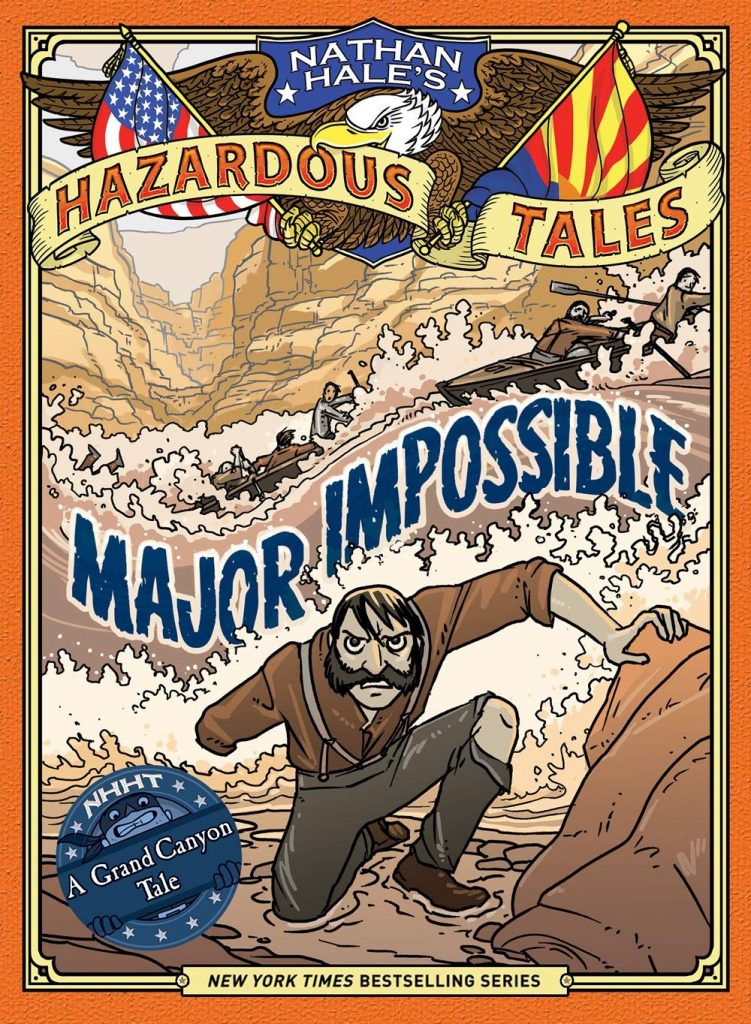 The cover image of a determined, one-armed man emerging from a raging river is enough to hook reluctant readers, and they won't be disappointed if hazardous adventure is what they're looking for. Major John Wesley Powell may have lost an arm in the Civil War, but that was just the beginning. Determined to learn everything he could and fascinated with rocks from an early age, Powell set out to map the Colorado River and he put the Grand Canyon on the map. His story is not dissimilar to Lewis and Clark's journey, and those who've traveled to the Grand Canyon area may have also visited Lake Powell, name after John Wesley Powell, of course.
Hazardous Tales are, by definition, hazardous. This one's Hazard Level reads as follows:
Dangerous rapids, starvation, rock throwing, fire, missing persons, coyote meat, whirlpools, pajamas, prison camps, mental illness, arrowheads, arson, sheep throwing, nudity, and battlefield amputation.
That's enough to hook anyone looking for adventure, and those all do occur in the book, but some are not quite as extreme as they sound. For instance, the nudity referred to is when someone must use their clothes to help pull someone over a cliff's edge. Still, this tale is not for the faint of heart. Hale manages to capture the danger early explorers faced even amidst his trademark humor. This particular tale is a bit more disjointed than his others, using flashbacks interspersed with the main story. Hale's stories are told through the voice of the historical Nathan Hale, accompanied by humorous asides with the hangman in charge of the original Hale's judgment. The hangman tries to help readers out in Major Impossible by yelling "flashback" through a megaphone at the start of each new flashback, but the story is still quite choppy. Fans of the series will enjoy this new installment, but there are probably more cohesive biographies of John Wesley Powell out there.
If you have been to the Grand Canyon (or are anticipating a trip there), this is a fun read and a good reminder that places we take for granted as being on our maps weren't always there (on the map). Don't miss the author's sketches in the end!
Considerations
This story includes some violent images (such as the arm amputation).
Nathan Hale also has a book on Harriet Tubman called The Underground Abductor (a nice overlap with the story and time period of Major Impossible).
Overall Rating: 3.5 (out of 5)
Worldview Rating: 3.5
Literary/Artistic Rating: 3.5
Related Reading From Redeemed Reader:
We are participants in the Amazon LLC affiliate program; purchases you make through affiliate links like the one below may earn us a commission. Read more here.
More than 75 books for children and teens, all about islands, oceans, and more. Bonus: get a free hand-drawn reading tracker!
Reading Ahead for You
Reviews and Resources Weekly in Your Inbox