Migration: Incredible Animal Journeys features well-known migration patterns as well as surprising facts, in a readable picture-book format.
Migration: Incredible Animal Journeys by Mike Unwin, illustrated by Jenni Desmond. Bloomsbury, 2019, 47 pages.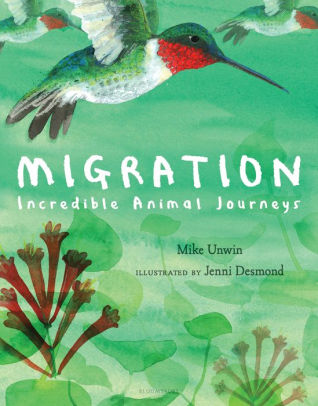 Reading Level: Picture Book, ages 8-10
Recommended for: Ages 6-12
Migration is one of the great mysteries of science: we know why most animals migrate but can't fully explain the instinct that guides them unerringly to their destination. This book doesn't attempt to explain, but it calls attention to the wonder—as all good science books should. Each double-page spread summons an outstanding example of migration. We've seen many of them before, such as the epic flights of arctic terns and wandering albatross, but others (Christmas Island red crabs, anyone?) are less well known. And did you know that African elephants migrate? Striking water-color illustrations of each species will grab readers' attention, and brief explanations in conversational prose will keep them engaged. A world map at the end charts each migration route.
Overall Rating: 4.5 (out of 5)
Worldview/moral value: 3.5
Artistic/literary value: 5
We are participants in the Amazon LLC affiliate program; purchases you make through affiliate links like the one below earn us a commission.
More at Redeemed Reader:
The Monarchs are Missing tracks the journey of monarch butterflies, a phenomenon understood only recently. Also see "Birds of a Feather," a book list for bird lovers.
Stuck at home? Enjoy our FREE Christian read-along adventure for all ages with lots of book ideas, discussion questions, and more!
Reading Ahead for You
Reviews and Resources Weekly in Your Inbox