This oversize, intricately-illustrated picture book relates the story of Manhattan in a series of maps.
Manhattan: Mapping the Story of an Island by Jennifer Thermes. Abrams, 2019, 64 pages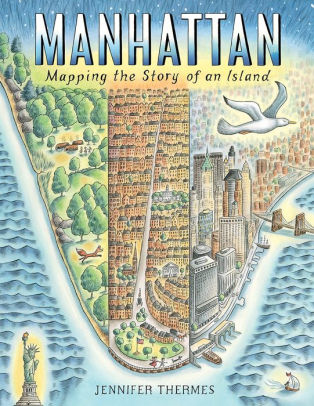 Reading Level: Picture Book, ages 8-10
Recommended for: ages 8-14
The story begins "millions of years ago" (give or take a few million) at the end of the Ice Age, when a glacier slowly melted over the Northeastern coast. In time people we call the Lanape settled on an island they called Manhanna, meaning "many hills." A few hundred years later the Dutch staked a claim on it, and the history of New Amsterdam, later New York, began. If you love maps, you'll find this birds-eye-view history fascinating, as the little settlement bounded on the east by an actual wall (hence, Wall Street) spreads eastward, establishes a street grid, builds a huge central park, incorporates the surrounding "boroughs," and becomes one of the world's great cities. It's fun to turn the pages of this oversize volume and watch the city grow, though the tone is not entirely celebratory. There's perhaps an overemphasis on slavery and mistreatment of Indians and immigrants—although yes, in the headlong rush of growth and development, some people get trampled. Also odd—no mention of 9/11, except an acknowledgement of the short life of the World Trade Center. Otherwise it's a joy, with illustrations reminiscent of Virginia Lee Burton and the D'Aulaires.
Overall Rating: 4.5 (out of 5)
Worldview/moral value: 3.5
Artistic value: 5
We are participants in the Amazon LLC affiliate program; purchases you make through affiliate links like the one below earn us a commission.
More: Do you like maps? We've got maps! See our reviews of Maps and City Atlas: Travel the World with 30 City Maps. And here's Betsy's post about this "Essential Student Reference."
Stuck at home? Enjoy our FREE Christian read-along adventure for all ages with lots of book ideas, discussion questions, and more!
Reading Ahead for You
Reviews and Resources Weekly in Your Inbox