Mitali Pekins offers a touching tribute to generational attachment across years and borders.
Between Us and Abuela: a Family Story from the Border by Mitali Perkins, Illustrated by Sara Palacios. Farrar Strauss Girard, 2019, 34 pages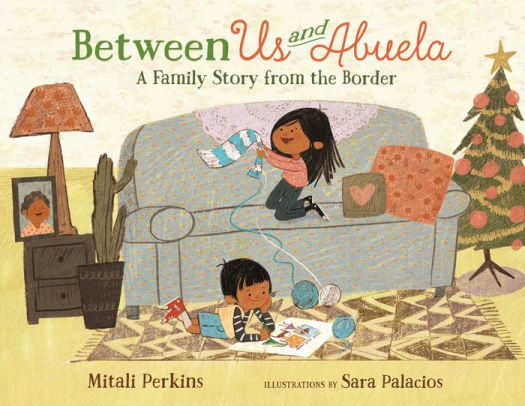 Reading Level: Picture Book, ages 4-8
Recommended for: ages 4-10 as a read-aloud, 6-10 for independent readers
La Pasada Sin Fronteras—"The Inn without Borders"—is one day in December when families in San Diego and Tijuana, separated by immigration laws, can meet and exchange Christmas gifts. Maria and Juan, with their mother Sylvia, are on their way to visit Abuela with their own gifts—a hand-knit scarf from Maria and a picture on cardboard drawn by Juan. The picture shows Mary and Joseph surrounded by boxes: "Inns," with no room. At the border, Abuela is waiting behind a mesh and slab fence. Their visit is sweet but short, and all too soon the border patrol signals time is up. Too late, the children learn that nothing can pass through the fence. The scarf can be mailed, but what about the bulky cardboard picture? Maria has to think fast and come up with a creative solution.
Mitali Perkins, one of our favorite authors, handles a hot-button issue with grace and resteraint. Her author's note explains the tradition of La Pasada Sin Fronteras, dating from 1993, without judgment—it's up to readers to decide the pros and cons of border fences. But there is no barrier to love—which, in this gentle story, finds a way.
Overall Rating: 4.75 (out of 5)
Worldview/moral value: 5
Artistic/literary value: 4.5
We are participants in the Amazon LLC affiliate program; purchases you make through affiliate links like the one below earn us a commission.
More at Redeemed Reader
Also by Mitali Perkins: Tiger Boy, Rickshaw Girl, Forward Me Back to You, Bamboo People, and You Bring the Distant Near. For a starker, darker view of the southern border, see our review of Beast Rider.
More than 75 books for children and teens, all about islands, oceans, and more. Bonus: get a free hand-drawn reading tracker!
Reading Ahead for You
Reviews and Resources Weekly in Your Inbox