In this appealing multicultural novel, three generations of a Bengali family find life and love in America.
*You Bring the Distant Near  by Mitali Perkins.  Farrar Strauss Giroux, 2017, 303 pages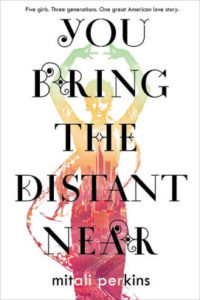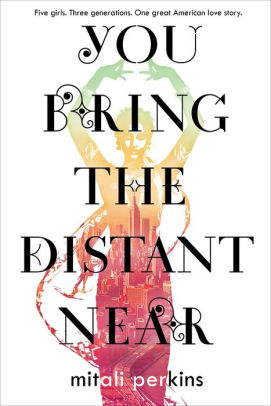 Reading Level: Young Adult, ages 12-15
Recommended for: ages 12-18
They arrived in 1973 from Bengal: Rajeev (Baba) and Ranee (Ma) Das and their two daughters.  Tara, nicknamed Starry, is the beautiful one: slim, light-skinned, and flirty.  Sonia, or Sunny, is darker, plainer, smarter, and driven (like her mild-mannered dad) to make her mark in this new world.  Of the four, Ma is most reluctant to settle in the Flushing neighborhood of Queens, with its alien streets and inhabitants even darker than themselves.  As the girls adjust, their parents bicker.  Life starts looking up with a promotion and a house in a better neighborhood, but a swift plunge into tragedy follows soon after.  Will the family recover?  Will Ma find contentment and peace again? Will Tara realize her acting ambitions?  Will Sonia find a way to make a difference in the world (along with finding love)?
You Bring the Distant Near (taken from title of Baba's favorite song) is a family saga rather than a compact narrative.  The plot moves from episode to episode, skipping over large blocks of time to eventually span three generations.  Several themes converge: family dynamics among parents and children, cultural clashes, coming of age, finding a life partner, crusading for social justice.  Certain elements of the story seem clichéd, such as the pretty nonacademic sister vs. the sturdy smart one, the launch to stardom that seems suspiciously easy, and dream guys without flaws.   But the characters are appealing, the writing is beautiful, and many sections are deeply moving, especially in regard to church.
While giving other religions their due, Perkins reserves her most deeply-felt prose for Christianity.  Sonia's encounter with the paradox of a suffering God rocks her world: "I close my eyes . . . until finally I feel the scarred hands of an unseen Liberator sheltering my own."  Though their story lacks a driving narrative, these characters have enough drive in themselves to carry a reader through their story.  By the end the daughters of Tara and Sonia are facing the future with feet firmly grounded in love.
Cautions: Sensuality (leading to marriage)
Overall Rating: 4.5 (out of 5)
Artistic value: 4
Worldview/moral value: 5
Also by Mitali Perkins: Tiger Boy
More than 75 books for children and teens, all about islands, oceans, and more. Bonus: get a free hand-drawn reading tracker!
Reading Ahead for You
Reviews and Resources Weekly in Your Inbox