Mediate on the names of Jesus during Advent with this helpful, inspiring family devotional.
*Unwrapping the Names of Jesus: An Advent Devotional by Asheritah Ciuciu. Moody, 2017. 120 pages.
When I was younger, I spent hours pouring over a beautiful book about the names of God. The Lord reveals himself through so many windows in his Word. Each name reflects an aspect of his character.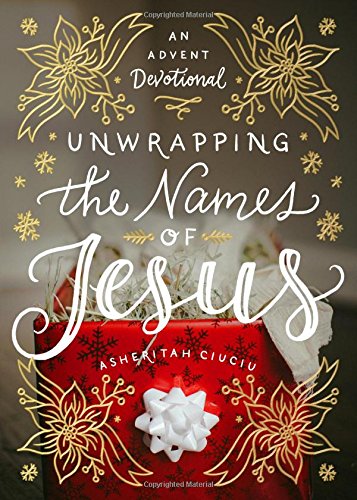 Unwrapping the Names of Jesus looks at the names particularly ascribed to the Messiah. The devotional includes the more obvious examples, such as Jesus and Christ/Messiah, as well as names such as King of Kings, Lion of Judah, Man of Sorrows, and many more.
Organized around the traditional four weeks of Advent (hope, preparation, joy, love), each week's devotions open with the lighting of the Advent candle and accompanying Scripture readings. Daily readings include the author's reflection on a specific name, a challenge, and a prayer. Additional Scripture readings round out each day's readings. Each week's section ends with activities families can do together and for those in their community that reflect that week's unifying theme.
Why another Advent family devotional? After all, we've got a whole list! Devotionals like this one offer fresh insight into our meditation on the person of Christ. Unwrapping the Names coordinates well with a traditional Advent celebration, but it would also complement a Jesse Tree study or even something like Wild Bells. This little book is nicely bound and would also make a lovely hostess gift if you'll be spending Thanksgiving elsewhere or attending a party early in December.
*indicates a starred review
Related Reading from Redeemed Reader:
We are participants in the Amazon LLC affiliate program; purchases you make through links like the one below may earn us a commission.
More than 75 books for children and teens, all about islands, oceans, and more. Bonus: get a free hand-drawn reading tracker!
Reading Ahead for You
Reviews and Resources Weekly in Your Inbox