Who Will Play With Me? by Randall Goodman. Broadman & Holman, 2019. 57 pages.
Are We Still Friends? by Randall Goodman. Broadman & Holman, 2019. 57 pages.
Reading Level: Ages 4-8
Recommended For: Ages 4-8
Based on the Slugs and Bugs show, this new easy reader series introduces two friends (an enduring theme for this reading level) who are very different, yet practice loving their neighbor in thoughtful ways. In Who Will Play With Me? Doug the slug finds a wagon and wishes someone would give him a ride. His friend, Sparky the lightning bug, appears, and they manage to collaborate using their gifts so they both have a good time on the playground.
Are We Still Friends? opens with plans for a picnic including Doug, Sparky, several friends, and a bag of Doug's very favorite snack–pizza chips. When Sparky goes to play tennis, a distracted Doug eats the entire bag of chips, then doesn't want to admit it. He tries to shift the blame, risking his friendship with Sparky.
The rhyming narrative is mostly smooth, though there are a few places where I had to check my rhythm. Both stories would have benefited from fewer details that tended to slow the story, but there was some fun onomatopoeia like "squoosh" and "slurshy sloggy."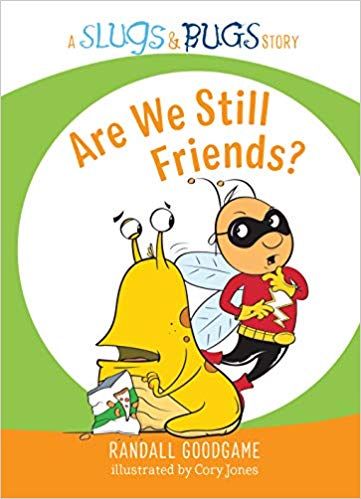 This series makes a good read-aloud for fans of Elephant and Piggie or You Are (Not) Friends. While the message is clear, it is not heavy-handed; a Scripture reference at the very end provides a biblical theme, and the circumstances are common to childhood. I'm sure we'll be seeing more of Doug and Sparky's adventures in the future.
Thanks to the publisher for providing a copy of both books in return for a fair review.
Overall Rating: 4
Worldview Rating: 5
Artistic Rating: 3
We are participants in the Amazon LLC affiliate program; purchases you make through affiliate links like the one below may earn us a commission.Read more here.
Related Reading from Redeemed Reader:
Support our writers and help keep Redeemed Reader ad-free.