The true story of the daring rescue of the Thai Soccer team will bring its tension and drama home to young readers.
Titan and the Wild Boars: the True Cave Rescue of the Thai Soccer Team by Susan Hood and Pathana Sornhiran, illustrated by Dow Phumiruk. Harper, 2019, 46 pages.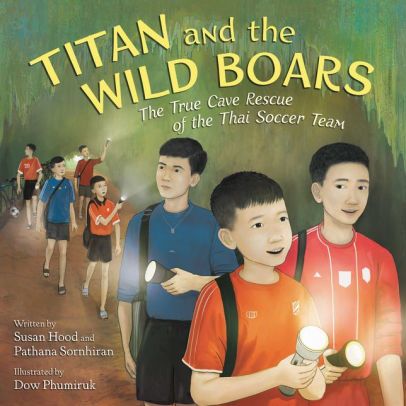 Reading Level: Middle Grades, ages 8-10
Recommended for: ages 8-12
It was only a year ago last June that the desperate situation of eleven Thai boys, ages 11-17, along with their 23-year-old coach, made international news. After a routine soccer practice the team had planned to visit a local cave for some casual spelunking, but ended up stranded by a flash flood. It took ten days for divers to even reach them, and another seven for their strength to be built up sufficiently to attempt a dangerous dive through flooded underground passageways. Twenty-three nations sent aid and seventeen divers made repeated jumps into uncharted waters to mark a path back to safety. Perhaps you prayed with your family for the trapped boys. If so, the drama of those 18 days will be especially meaningful when reading this well-crafted picture book for middle graders.
The authors focus on Chanin Tibulrungruang, nicknamed Titan, one of the youngest of the "Wild Boars" soccer team. For American readers, they avoid the Thai place names and superfluous details in order to communicate something of the panic—and the tedium—of being stuck in a cave with no idea of the frantic rescue efforts outside. As almost all members of the team were Buddhist, and their coach a former apprentice monk, the story is told from that context, with frequent quotes from the Buddha emphasizing love, cooperation, and helpfulness. There's no question that the boys' faith and their coach's leadership helped them through the desperate days. (The real question is, what is the content of that faith? See "Considerations" below.) Regardless of context, it's the thrilling story of a miraculous rescue, well told.
Considerations:
The text mentions people all over the world thanking "all the gods of heaven for the boys' safety" after their rescue." This might provide an opportunity to look into the tenets of Buddhism and discuss how it, and other Asian religions such as Hinduism, compares with Christianity.
Overall Rating: 4 (out of 5)
Worldview/moral value: 3.5
Artistic/literary value: 4.25
We are participants in the Amazon LLC affiliate program; purchases you make through affiliate links like the one below may earn us a commission.Read more here.
More than 75 books for children and teens, all about islands, oceans, and more. Bonus: get a free hand-drawn reading tracker!
Reading Ahead for You
Reviews and Resources Weekly in Your Inbox