The Vanderbeekers to the Rescue continues the Vanderbeeker fun as the kids try to rescue their mom's cookie baking business.
*The Vanderbeekers to the Rescue by Karina Yan Glaser. HMH Books for Young Readers, 2019. 364 pages.
Reading Level: Ages 8-10
Recommended For: Ages 8-12, or as a read aloud for all ages.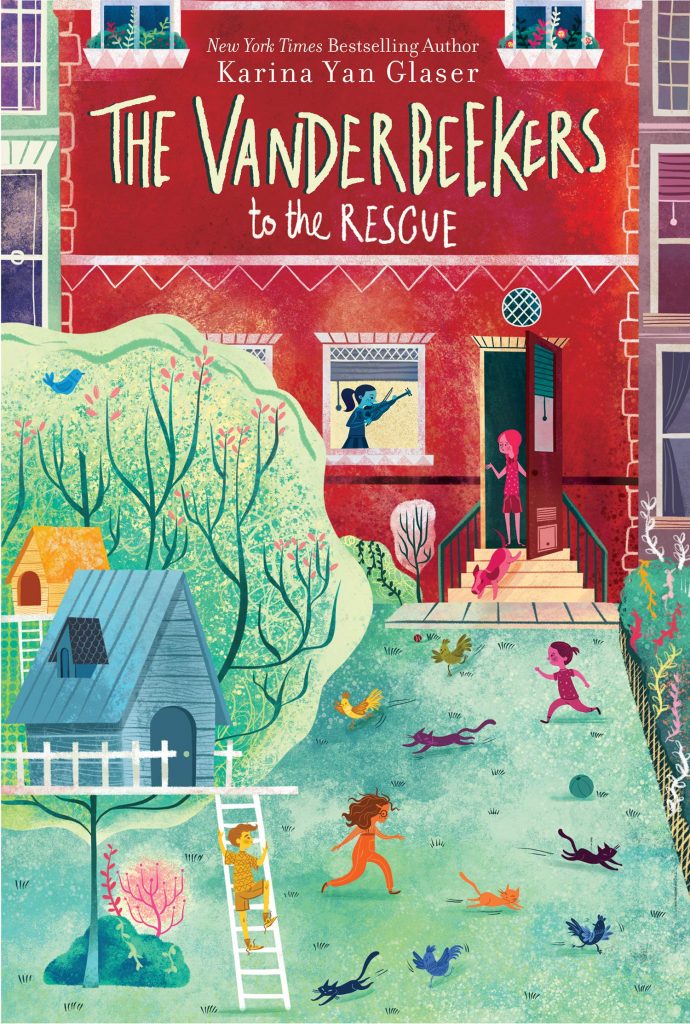 Mrs. Vanderbeeker has big news: she's going to be featured in Perch Magazine for her cookie business! Since the Vanderbeekers celebrate every family member's accomplishment, the apartment goes wild with excitement. The photoshoot is scheduled for the end of Spring Break which means they have a few months to get the brownstone ready. Life has a way of complicating the best laid plans, though, and Spring Break begins with the brownstone in essentially the same condition: walls that need patching and painting. Tidying up. Fixing up. And when the inspector shows up early to approve (or deny!) Mama's business license, the Vanderbeeker animals do their part to seal Mama's doom. Without a business license, how can she run her cookie business? Should the kids even tell her about the inspector, or can they find a way to fix things?
The Vanderbeekers to the rescue! The kids rally, and they make big plans. Anyone who knows the Vanderbeekers, though, will know that their most well-intentioned plans aren't always, um, "successful." Readers will laugh, mourn, roll their eyes, and thoroughly enjoy this latest installment of the beloved Vanderbeekers. Sweet glimpses of family life, particularly through big family meals, remind us why we love this family: they genuinely love each other, quirks and all. And this third volume is even better than the second one!
Considerations:
Minor Language: "geez" a few times, and the like
Deception: As with the other Vanderbeeker books, there is some initial deception involved on the part of the kids in an effort to surreptitiously carry out their "helpful" plans. All comes to light, and those in the wrong help to make it right. These are great issues to discuss with your kids: is deception ever justified? What should our response be when we're caught in a lie or a deceptive activity?
Food! Because Mrs. Vanderbeeker owns a cookie baking business, eating cookies whilst reading any Vanderbeekers book is a clear connection. But Isa and Jessie regularly cook for their family, and family meals are a central part of their family culture. In honor of this, we have a Cookbooks for Kids and Teens book list for you today. Bonus: we asked Karina Yan Glaser what her favorite cookbook for kids was–you'll find it on our list!
Overall Rating: 4.75/7
Artistic Rating: 4.75
Worldview Rating: 4.75
*indicates a starred review, a best of the best!
Are you new to the Vanderbeekers? We reviewed The Vanderbeekers of 141st Street (book 1) and The Vanderbeekers and the Hidden Garden (book 2) if you need to catch-up. There's a study guide for educators from the publisher available for all three books!
The Vanderbeekers is due out in a week, but you can pre-order today and it will arrive at your house ON publication day! Amazon links are affiliate links; we earn a commission on books you purchase through our links at no cost to you.
Support our writers and help keep Redeemed Reader ad-free.