Popular children's author Margaret Peterson Haddix begins another sci-fi/adventure series for middle-graders.
The Strangers (Greystone Secrets #1) by Margaret Peterson Haddix. HarperCollins, 2019, 416 pages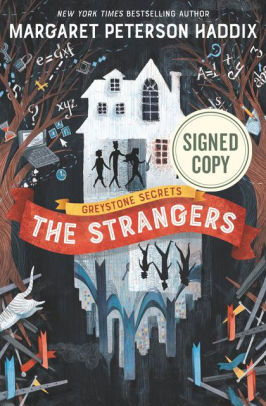 Reading Level: Middle Grades, ages 10-12
Recommended for: ages 8-12
Aside from losing their father to an accident years ago, the Greystone Kids live happily with their mom in a placid Ohio town. One day they return from school to find Mom weeping over a news report about three kidnapped kids from Arizona. Oddly, their names are Chess, Emma, and Finn—same as the Greystones. Even more oddly, their ages are the same. It might not be more than a crazy coincidence, except their mom leaves for a sudden business trip the very next day, and communications from her seem squirrelly, if not absolutely fake. Also, as the siblings delve deeper into their Arizona counterparts, the similarities become too startling to ignore. Chess is the responsible one, Emma the analytical one, Finn the cute, fun-loving one, but all their unique talents and personalities will have a part to play in solving this mystery and pursuing it into the next volume.
After a gripping opening chapter, the story lagged a bit for me, but sci-fi or mystery-loving middle-graders will keep peeling away layers from chapter to chapter. Without giving too much away, I'll say that the multiverse theory takes a hand in the plot, and that always raises questions about identity: am I still me if I discover there's an "alternate me" in another universe? Purely theoretical as far as multiverses go (since there's no evidence whatsoever for the theory), but worth some speculation if it gives readers a greater appreciation for who they are and Who made them.
Please Note: This review pertains to the first volume of the series only.
Considerations:
The multiverse theory is proposed as a substitute for a Creator—the more so as mathematical probability stacks up against the notion of our "just right" universe evolving by chance. Science-minded readers may want to learn a little more about it, though.
The story presents a strong family in the Greystones, though the parents of their ally Natalie are going through a divorce.
Overall Rating: 3.75 (out of 5)
Worldview/moral value: 3.5
Artistic/literary value: 3.75
Reading Ahead for You
Reviews and Resources Weekly in Your Inbox