Fast-paced and far-out, this series opener mixes theoretical science with human joys and sorrows.
Sal and Gabi Break the Universe by Carlos Hernandez. Disney (Rick Riordan Presents), 2019, 400 pages.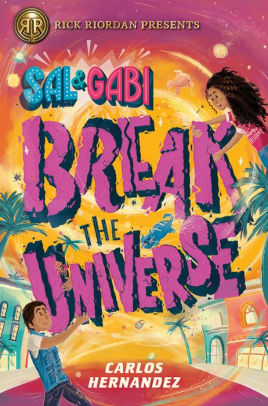 Reading Level: Middle Grades, ages 10-12
Recommended for: ages 12-15
Adjusting to a new school, after moving to a new state, is never easy, but Sal Vidon has some extra adjustment-burdens. One, he's Type 1 diabetic, and there's a whole new crop of teachers to educate about what that means. Two, he still misses his mother, who died a few years earlier (even though his stepmom is very cool). Three, it's his third day at the Miami magnet school and his third appearance in the principal's office, this one over an altercation with a hulking 7th-grader over a locker. And a dead chicken. But it's on Day Three that Sal meets Gabriella Real, who's acting as counsel for the 7th-grader. They don't exactly hit it off at their first meeting, but subsequent events will draw them together.
For, besides his talent for magic and pranks, Sal also has the ability to access alternate realities, or multiverses. Just how is never explained, but it started when he brought his first mom back from whatever alternate universe she was living in. There have been other moms, from other places: some difficult, some warm and nurturing, and all great cooks. Sal's father, a specialist in calamity physics, is tracking Sal's ability closely, fearful of unleashed "calamitrons." Gabi has her own issues. First off, to say that her family is non-traditional is an understatement. It's not that she has two dads—she has many dads (one is mechanical), plus a mom, and a baby brother who's on a ventilator and may not pull through. (The multi-dad phenomenon, like the multi-verse, phenomenon is never explained. None of them act gay, for what that's worth.)
Yes, it sounds crazy, but Sal is an unusually winsome narrator and his story is both touching and hilarious. Unlike most other "Rick Riordan Presents" series, this one does not feature the gods of non-western mythologies. It's more science fiction, with the added appeal of a rich Cuban cultural background. I can't vouch for the rest of the series, but the first one is lots of fun, especially the audio version.
Please note: This review pertains to the first book only. Additional installments in the series may contain objectionable content, so as always, read with discretion.
Considerations:
See Gabi's unconventional family, above. I don't sense an agenda; it just fits with the general quirkiness of the story. Sal's family is close, and he has a good relationship with both father and stepmother.
There are occasional (2-3?) misuses of God's name.
Overall value: 3.75 (out of 5)
Worldview/moral value: 3.5
Artistic/literary value: 4
Reading Ahead for You
Reviews and Resources Weekly in Your Inbox