A goofy plot and sword-and-sorcery setting make Max and the Midknights a fun series opener.
Max and the Midknights by Lincoln Pierce. Crown, 2019, 279 pages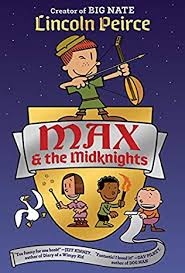 Reading Level: Middle grades, ages 8-10
Recommended for: ages 8-12
Bobbling around the countryside with one's troubadour uncle isn't such a bad life, even though Max doesn't want to follow in Uncle Budrick's footsteps. Max's heart is set on becoming a knight, but nobody thinks that'll happen. It can't happen because Max is–a girl! And everybody knows girls can't be knights, even though she's pretty good with a mandolin & arrow. The two are headed to Byjovia, a pleasant town Uncle B remembers fondly. But once within the city gates, it doesn't seem like the same place. Once jovial under good king Conrad, there's been a change of management (and possibly foul play) under new King Ghastly. Soon Max and Uncle Budrick run afoul of the King and only quick thinking by some new friends, including bumbling Mumblin the wizard, gets them out of Ghastly's clutches. But there's wrong to be righted, and even if she's not officially a knight, Max can act like one.
The author of the popular Big Nate series spins off another merry-misfit tale, this one in a King-Arthur setting with swords and dragons. A far-fetched plot, snappy dialogue, and comic illustrations add good, harmless fun.
Overall Rating: 3.75 (out of 5)
Worldview/moral value: 3.5
Artistic/literary value: 4
For a similar knights and castles tale with incongruous overtones, see our review of Knights vs. Dinosaurs.
Please follow and like us: