Sally Lloyd Jones shares the basics of book-writing with simple advice that works for any age.
Look! I Wrote a Book (and You Can Too) by Sally Lloyd Jones. Schwartz & Wade, 2019, 32 pages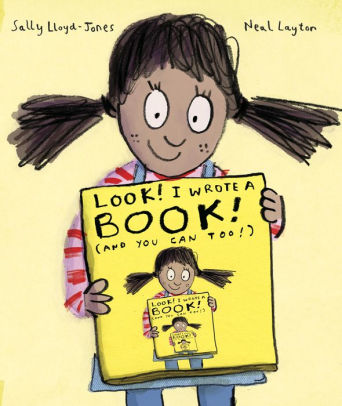 Reading Level: Picture Book, ages 4-8
Recommended for: ages 6-9
So, you want to write a book but don't know where to start? Here's a step-by-step guide for every budding author. First, you need an idea. But not just any idea. It should be about something you know and something interesting to readers. Next you need a plan and a story with a hero and a goal and a way to reach the goal and a way to wrap it up. Then, a good opening that will capture a reader's attention right away . . . and so on.
The author, best known for The Jesus Storybook Bible, captures the writing process from conception through completion in a way her target audience will understand and may even want to try. The rough and tumble illustration style may even make them think, "I can do better than that!" So go for it, and don't forget to collect plenty of blurbs for the back cover. Sally Lloyd Jones did, and you can too!
Overall rating: 4 (out of 5)
Worldview/moral value: 3.5
Artistic/literary value: 4.5
We are participants in the Amazon LLC affiliate program; purchases you make through affiliate links like the one below may earn us a commission. Read more here.
Support our writers and help keep Redeemed Reader ad-free.