---
Yesterday I introduced a set of books that impressed me as a child, and I appreciate them more now as a parent and home educator. Here I describe the contents of the individual volumes so that you may consider adding a few more items to your collection.
Volume 1: Poems of early childhood
Beginning with Mother Goose (of course), the poems gradually become longer and more sophisticated; some pensive, some silly, but with wide appeal to young children. Colorful illustrations by a variety of artists. One drawback is that the children in the pictures are all very Caucasian, but that is not surprising considering the publication date. Robert Louis Stevenson, Christina Rossetti, Eugene Field, and many others are included.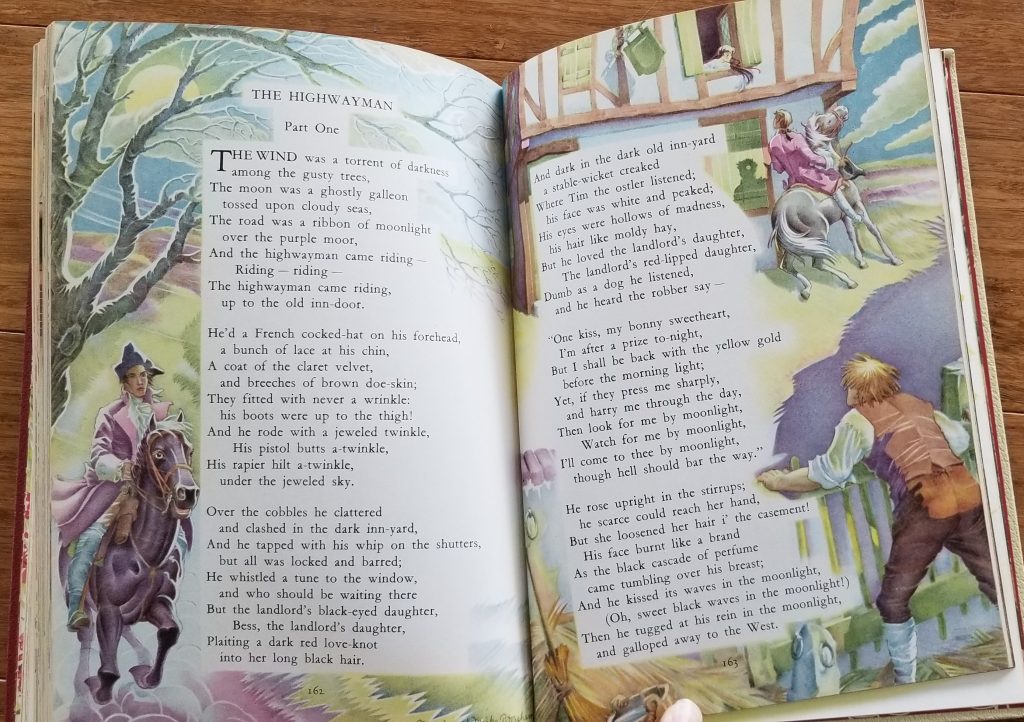 Volume 2: Storytelling and Other Poems
Every day poems, humorous poems, and longer ballads, including Walter de la Mare, Shakespeare, Tennyson, Sandburg, Dickinson, Richards, Belloc, Ralph Waldo Emerson (did you know he wrote children's poetry?), Noyes, and Longfellow, along with many other lesser known writers whose work is just as fun. Here you will also find Harlem Renaissance Poets such as Paul Laurence Dunbar and Countee Cullen. Again, the attention span expectations are built gradually from the beginning.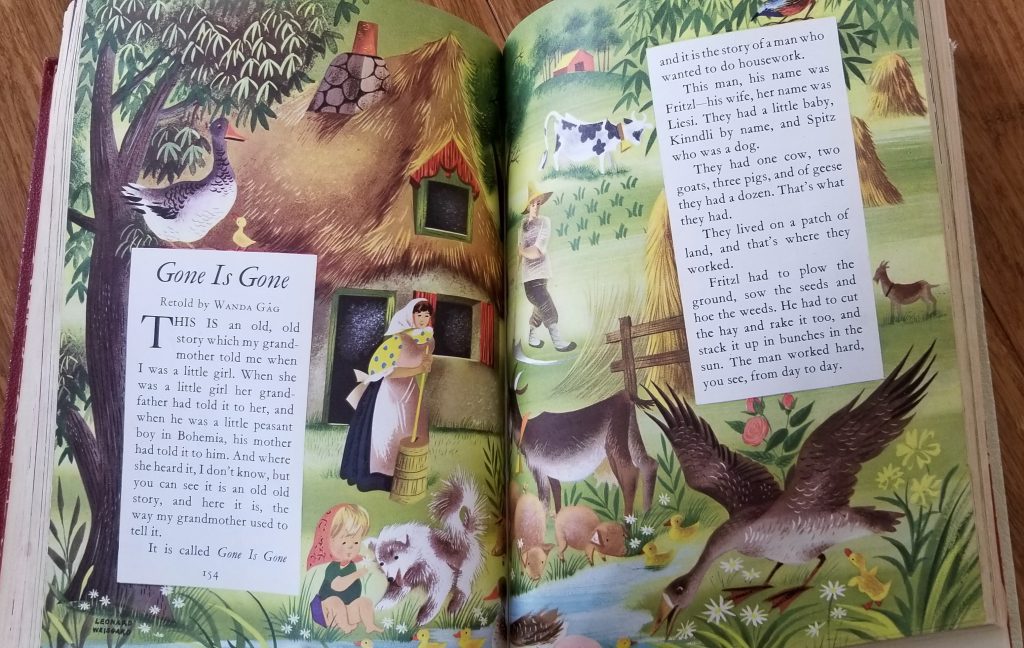 Volume 3: Folk and Fairy Tales
Nursery stories, folk and fairy tales, and Aesop's fables. I particularly love "The Three Wishes," "Salt," Master of all Masters," and "Gone is Gone." I don't know why "Aladdin and the Wonderful Lamp" is set in China, but oh well. Attentive listeners may notice variations in detail from other versions, which is part of the fun of folk tales.
Volume 4: Animal Friends and Adventures
If your children love animals or vehicles, these are fun. There are a couple of excerpts from full-length novels by Marguerite Henry and Hugh Lofting, but these only whet your appetite for the book, instead of making you feel like you are in the middle of the story, out of context. I loved reading "The Last of the Dragons" by E. Nesbit, though I didn't appreciate the author until later. It's so nice to realize that a new "friend" is actually an old one.
Volume 5: Life in Many Lands
Stories about children in historical Americas and other parts of the world, told from older cultural perspectives.
Volume 6: Great Men and Famous Deeds
Not in my collection, but I'm looking for it. I'm confident it will be an asset.
Volume 7: Exploring the World Around Us
Nature study! This is the first volume containing photographs, mostly b&w, with some color sections. Exotic animals are first, specifically those that can be seen at a zoo or circus, followed by those that will be more familiar: fields and woods, pets, on the farm, birds, frogs and toads, creatures in the water, underground dwellers, reptiles, flowers, home gardens, and trees. A few pages of drawings include parts of a flower, how seeds are spread, and how to recognize common trees.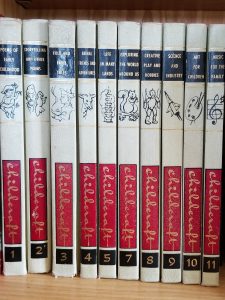 Volume 8: Creative play and hobbies
Although the pictures are dated, the activities are classic games and handicrafts. Indoor, outdoor, quiet games, travel, parties, hobbies, plays, drawing and painting (including "How to make better pictures"), writing, making toys, cooking, handwork, and puppetry. No distracting flashy advertisements or staged photographs to scroll past, just practical instructions. Guess who wrote the chapter on cooking? Irma Rombauer, author of Joy of Cooking. I notice that the pronouns are directed to children so the instructions are on their level, but not over-simplified.
Volume 9: Science and Industry
Although much has changed in the last 50+ years since these were written, "living wonders," physical science, simple machines, observation of the sky, etc. have changed very little. Short, two-page explanations.
Volume 10: Art for Children
From simple instructions for children on how to make art, to examples of great works by many artists from different cultures, concluding with encouragement to look for all kinds of shapes in art and life–all the descriptions are extremely short. Maybe not ideal for in depth picture study, but a broader introduction to art appreciation.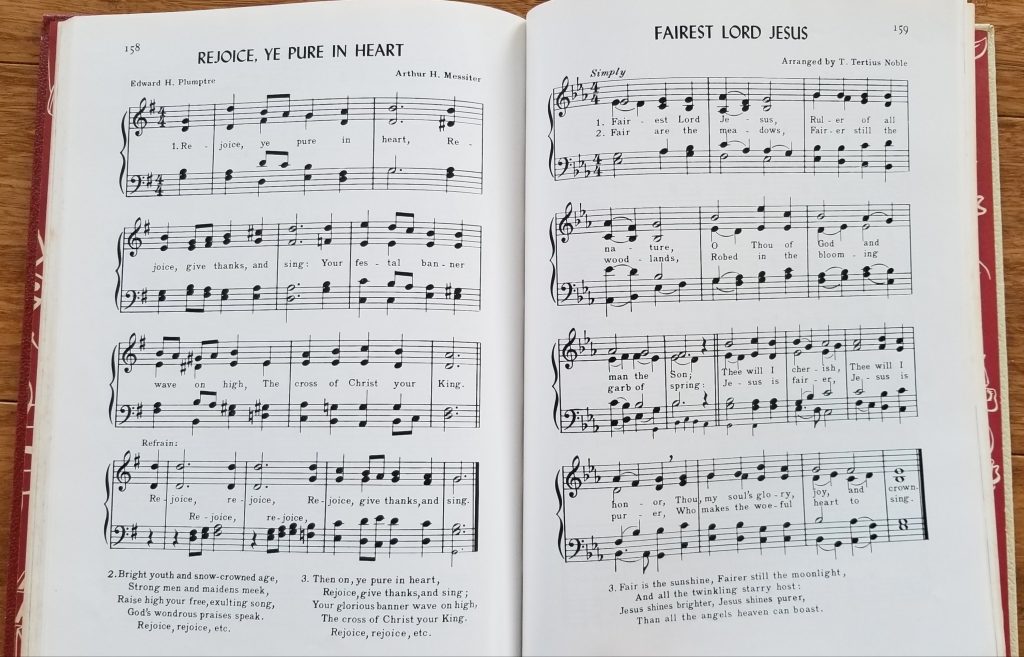 Volume 11: Music for the Family
Listening for sound and rhythm, introduction to instruments, lullabies, nursery songs, folk songs and ballads, seasonal songs, patriotic, hymns (!), and stories about composers. The musical scores are fairly simple to play for those who can read music (or you could probably pull up the tunes online). Here's the preface to the hymn section:
Hymns are the inspiring songs that have been written in praise of God. They have great beauty and strength, and in them there is a message of courage, hope, and inner peace for all people…

The value of hymns is lasting. Those hymns a child learns when he is young will give him strength and comfort all through life.

p. 146
Amen!!
Volume 12-15: Child development for parents
I don't bother to keep these at ready reference, but at least the values are a blend of Judeo-Christian and conservative secular ethics before the modern era of gender redefinition. A lower priority if shelf space is a concern.
So there you go. I would love to hear if you remember reading these in your youth or if you are just now discovering them!
Stuck at home? Enjoy our FREE Christian read-along adventure for all ages with lots of book ideas, discussion questions, and more!
Reading Ahead for You
Reviews and Resources Weekly in Your Inbox