I remember the first book that taught me to love poetry as a child. "Antonio, Antonio," by Laura E. Richards, was in the second volume of Childcraft, and it was so silly and delightful, it didn't take me long to memorize it, even though it was a whole page long. Even better, the same author had written "Eletelephony," found in the same volume, and I learned that the joy of poetry is simply playing with words.
I also discovered "The Highwayman" by Alfred Noyes in the same volume. Oh, those haunting illustrations which enhanced the dramatic pathos of the romantic narrative! When I learned that Anne of Green Gables recited that poem, I memorized it too, taking great pride in being able to recite six whole pages of poetry. I was all about drama in those days, white poet's shirt and all.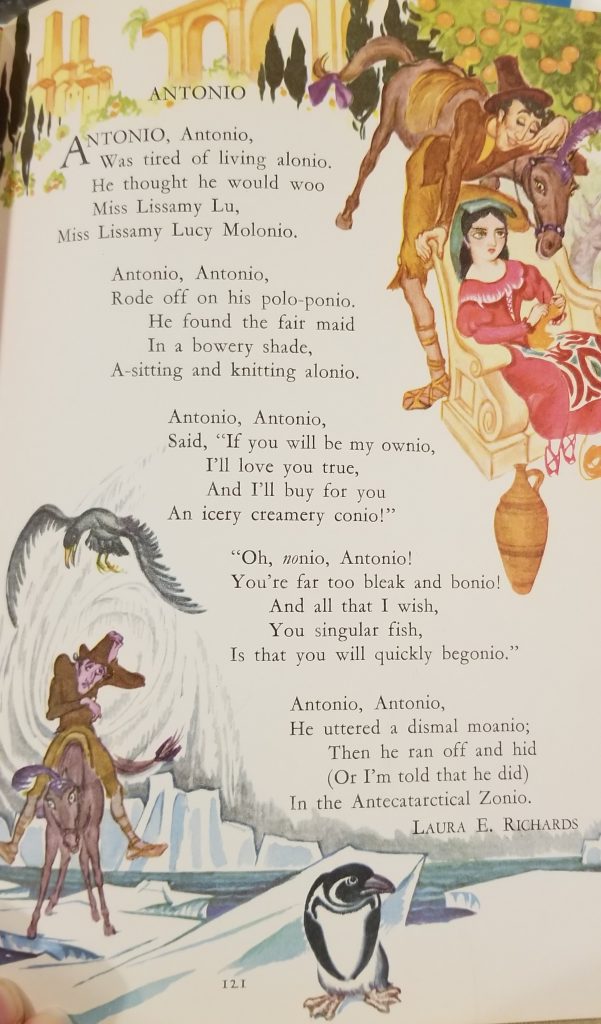 Although I enjoy few opportunities for "sitting and knitting alonio" these days, and have few occasions in which to impress audiences with my elocution, I have been enthusiastically revisiting that vintage set of volumes. (I liked the fairy tales volume in the 1970's edition, but not so much the illustrations.) This summer it occurred to me that my set of Childcraft (1954-1961 copyright dates) would quite handily provide a well-rounded education for my younger three boys (8, 5 and 3), if I could just work them into my regular reading rotation. For those who are interested in the Charlotte Mason methods, these are definitely living books.
We have already finished reading the fairy tales (vol.3) at tea time, mostly on our front porch. We also brought it along when we invited ourselves for tea at the home of an elderly lady in our church and her daughter. You are not too old for such stories at 90+, and it supplies "conversation" when topics are lacking.
Many people prize the My Book House set, and those are lovely, too. But if you happen to see a set of Childcraft at your grandmother's house or a booksale, take a minute to browse them: they fit a lot of treasure in a little space. If you find the later editions, from the 70's and beyond, look through those as well. There are reasonably priced, used, individual copies on www.abebooks.com (which is where I am looking for my missing volume 6).
Now what are the contents of these lovely books? Check back tomorrow and I'll introduce them to you individually.
Stuck at home? Enjoy our FREE Christian read-along adventure for all ages with lots of book ideas, discussion questions, and more!
Reading Ahead for You
Reviews and Resources Weekly in Your Inbox