Three boastful knights bite off more than they can chew in this legendary tale by a popular graphic novelist.
Knights vs. Dinosaurs by Matt Phelan.  HarperCollins (Greenwillow), 2018, 148 pages.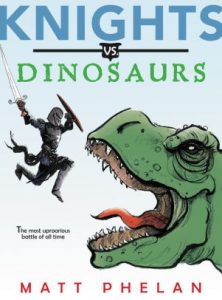 Reading Level: Middle Grades, ages 8-10
Recommended for: ages 6-10, especially boys and reluctant readers
It all started the evening Sir Erec told the banquet guests he had slain forty dragons—which was a bit of an exaggeration.  In fact, it was a barefaced lie.  Merlin the wizard knew, of course, so he dropped a challenge in Erec's lap: to slay the "most fearsome creature of all: the Terrible Lizard."  How could Erec refuse? And  because "knights were a competitive bunch," in no time the curious Sir Hector and brawny Sir Bors have signed on to the quest, along with the tall, grim Black Knight who never says a word.  Also, though Merlin specifically prohibited squires, Sir Bor's squire Mel tags along.  But Merlin has a trick up his sleeve, and magically transports the knights to an England of thousands of years earlier, when Terrible Lizards were commonplace.  Are iron-clad warriors any match for them?
The knights' idiosyncrasies provide some witty repartee, and the unusual premise could have been expanded upon.  But the length, humorously illustrated, makes for a short, fun read, especially for readers who like knights and/or dinosaurs, but not necessarily reading.  Two quibbles: two characters assumed male turn out to be female (spoiler alert!), with no particular advantage to the plot.  Also, one reference to the Holy Grail includes no mention of what made it holy.  Otherwise it's light, harmless entertainment.
Also by Matt Phelan: Snow White, Bluffton
Cautions: Worldview (21st-century gender-bending)
Overall Rating: 3.75 (out of 5)
Artistic value: 4
Worldview/moral value: 3.5
More than 75 books for children and teens, all about islands, oceans, and more. Bonus: get a free hand-drawn reading tracker!
Reading Ahead for You
Reviews and Resources Weekly in Your Inbox