Nine Months shows the development of human life, from embryo to newborn, in gentle rhymes and beautiful paintings.
Nine Months: before a Baby Is Born by Miranda Paul, illustrated by Jason Chin. Holiday House, 2019, 30 pages.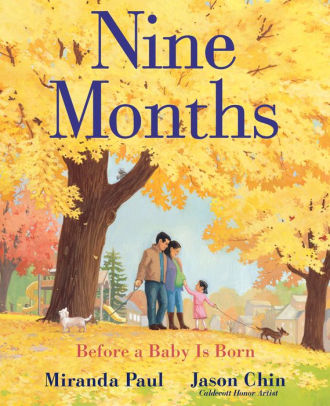 Reading Level: Picture Book, ages 4-8
Recommended for: all ages
Small. Ball. The point of a pin. Then it divides . . . . Our story begins
. . . with Mami, Papi, and their little girl on their bed reading a picture book. The book is titled Hello, Baby (Hola, Bebe). Meanwhile, their own little baby is growing inside its mother: the opposite page shows the fertilized egg dividing into two cells, then four cells, in a matter of hours. By Week 15 the fetus (no longer an embryo) is large enough to show in actual size on the page. For the next several pages she grows and grows, while Mami gets bigger and big sister gets ready, until baby fills a double-page spread. And it's time to be born.
This beautiful picture book, illustrated by Caldecott-honor-winner Jason Chin, is a perfect primer for how life begins and emerges into a welcoming world. Realistic pictures of the baby's development evoke awe and respect, but since we start with a zygote, rather than sperm and egg, there's no opening for awkward discussions about sex with a four-year-old. Additional pages in the back share more information about development in the womb. Great for families expecting, and families not.
Cautions: None
Overall Rating: 5 (out of 5)
Worldview/moral value: 4.75
Artistic value: 5
Also by Miranda Paul and Jason Chin: Water Is Water (starred review) Also by Jason Chin: Grand Canyon and Gravity.
Please follow and like us: