The Defend Your Faith Bible equips middle graders for apologetics with arguments for the reasonableness and accuracy of the scriptures.
CSB Defend Your Faith Bible: the Apologetics Bible for Kids. B&H Kids, 2019, 1350 pages. (Text size: 8.5 point)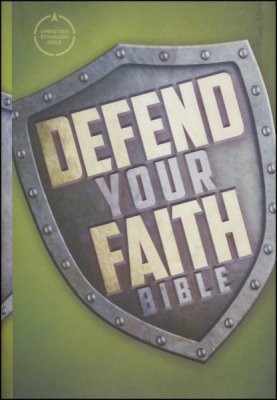 Recommended for: ages 8-14
The HCSB Apologetics Study Bible for Students (now available in the CSB update, of course) won high praise from us several years ago. With tons of notes, quotes, Bible evidences, and answers for skeptics, it gave a young Christian everything needed to defend biblical truth intellectually.  Defend Your Faith targets a slightly younger audience with the same goal.  Literal- and science-minded middle-schoolers will love diving into the sidebars and text boxes.  Distinctive features include "Digging into the Word" (archaeological evidence), "Untwisting Scripture" (comparing passages to see the underlying consistency of the Bible), "Know Questions" (common questions and objections about particular passages), interesting facts, biographical sketches of "Defenders of the Faith" in Bible times and throughout history, key concepts to learn, and key verses to memorize.  One-page introductions to each book provide a summary of the contents, probable author and time period, and where the book fits in human history.
The features, coded by color and simple icon, are unobtrusive and don't clutter the two-column text. The only pictures are photographs, such as Bible locations or scientific discoveries. With a minimum of razzle-dazzle and lots of interesting information, this Bible will be a hit with the curious preteen. They should know, however, that living the faith takes priority over defending the faith, and intellectual arguments and evidences alone will get no one into to heaven. That work belongs to Holy Spirit.
Value Rating: 4.5
More than 75 books for children and teens, all about islands, oceans, and more. Bonus: get a free hand-drawn reading tracker!
Reading Ahead for You
Reviews and Resources Weekly in Your Inbox