I know, I know, there's so little time left before the Day of Much Rejoicing and Celebration, but I've got two strong recommendations for Christmas picture books that are definitely worth the effort to track down.
Silent Night
Silent Night: The Song from Heaven by Linda Granfield, art by Nelly and Ernst Hofer. Tundra Books, 1997, 32 pages.
Reading Level: Picture book, ages 4-8
Recommended for: ages 4-8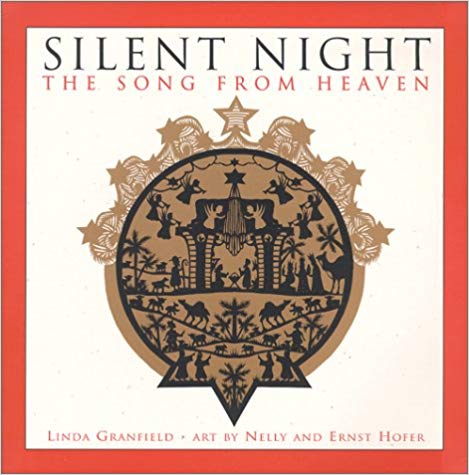 First, definitely check your library for a book that tells the story behind the beloved carol "Silent Night." Did you know that the hymn celebrates 200 years on Monday, December 24, 2018? We enjoyed this one by Linda Granfield with the intricate scherenschnitt paper cut illustrations, and the historical account of how a last-minute Christmas Eve musical composition applied to a beautiful poem, accompanied by a guitar, was popularized through singing families and how the origin came to be known. We also learn of the Christmas Eve truce during WWI, sparked by Germans singing "Stille Nacht" in the trenches, and how it became popular in America after the war.
There are other lovely picture books about "Silent Night" that I haven't seen, but if your library has options, you might pick one up before they close for the holiday. If you can't access a book, certainly sing the hymn and read the story when you can.
A Savior is Born
A Savior is Born: Rocks Tell the Story of Christmas by Patti Rokus. Zondervan, 2018, 32 pages.
Reading Level: Picture book, ages 0-4
Recommended for: ages 0-4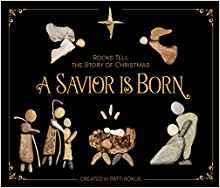 Next time you see a rock, pick it up and imagine what it might resemble. An angel wing? A pregnant virgin? A running shepherd? See what your kids come up with! Patti Rokus's simple, lovely depiction of our Lord's incarnation is told in short phrases and scripture references, and illustrated with cleverly arranged rocks. Who knew that pebbles could become sweet and beautiful? But will not the rocks cry out to praise our God? This is delightful, the best new Christmas picture book I've seen this year. I picked it up at Barnes and Noble, though I'm including the Amazon link, whichever is most convenient for you.
Merry Christmas to your family from all of us at Redeemed Reader!
Glory to God in the Highest!!!
We are participants in the Amazon LLC affiliate program; qualifying purchases you make through affiliate links like the ones below may earn us a commission.
More than 75 books for children and teens, all about islands, oceans, and more. Bonus: get a free hand-drawn reading tracker!
Reading Ahead for You
Reviews and Resources Weekly in Your Inbox