This picture book gives a neglected holiday its due, celebrating "New Year" around the world with brilliant collage illustrations.
Every Month is a New Year: Celebrations around the World by Marilyn Singer, illustrated by Susan L. Roth.  Lee & Low, 2018, 50 pages.
Reading Level: Picture book, ages 4-8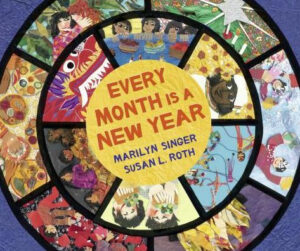 Recommended for: ages
From the midnight drop on Times Square to Los Doce Uval dela Sicrle (In Spain), almost every culture has an idea when the New Year begins.  Short poems give a sense of the emotions connected with each—most are joyful celebrations but some, like Rosh Hashanah, have a serious religious context.  The colorful collages reflect both the emotion and the themes appropriate to the season.  Readers will be surprised to learn that there's some kind of "new year's" celebration going on in the world every month!  Here's one book that gives the holiday (kind of an afterthought in western culture) its due.  The unusual vertical format adds interest.  I found the collage illustrations fascinating—more so than the poems, but there's plenty here to celebrate.
Cautions: Worldview (other religions represented)
Overall rating: 3.75 (out of 5)
Worldview/moral value: 3
Artistic value: 5
Please follow and like us: