I (Betsy) interviewed my teen daughter about her experience with the 2018 Reading Challenge. She's a 13-year-old voracious reader who has clear genre preferences, but who is also receptive to suggestions from me. We both did the same challenge level, and it's been a fun year together!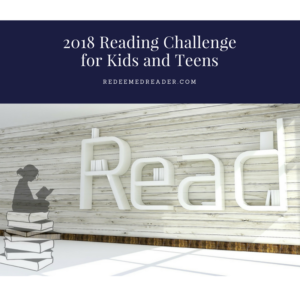 Which level of the 2018 Reading Challenge did you aim for and why?
The Grand Slam level (100 books) because I knew I could easily get 25 or 50 done, and I wanted something harder.
Did you complete it?
Probably! [At the time of this interview/writing, there are still 2 weeks left of December, and she has 1 book left: Jane Eyre.]
Which category was easiest for you to complete? What were your favorite books in that category? How soon did you finish that category?
Fantasy and fairy tales! The Lord of the Rings trilogy by J. R R. Tolkien are my favorite books in this category. I finished the last one in this category by May 1st. I started The Silmarillion in May, too, but it's complex and one of the hardest books I've tackled this year. I didn't finish it until just a few days ago [early December]. The Silmarillion was one of my "old" books.
Which category was hardest for you to complete? Why do you think that is?
I think the hardest for me was biography/autobiography. I'm not really that big a fan of biographies, but I really enjoyed the Lincoln biography I read [Lincoln: A Photobiography by Russell Freedman]. Lincoln is my favorite President, and it was very interesting. I'm also enjoying a biography on Queen Victoria [In the Days of Queen Victoria by Eve Tappan] right now, but I won't finish it before January. I'll have to save it for next year's challenge! Both of these books start when they are young and cover their entire lives, which is cool. The books don't just focus on one part of their lives, but go for their entire lives. Since they're famous historical figures, we usually only hear about the parts of their lives from when they were President or Queen.
I also read a biography about Michael Faraday [Spiritual Dynamo by Derek Bingham]. It was very, very interesting. I was actually surprised. Michael Faraday is the guy who liquified chlorine, and he also did a lot of experiments with light. He put on several scientific demonstrations and talks for kids, but every Christmas he would do the candle stuff he was famous for and he would do stuff for only teens, too. He personally knew Queen Victoria and Prince Albert. He, along with Sir Humphrey Davy, was allowed to go to France during the Napoleonic Wars; they were the only Englishmen allowed at the time. Napoleon gave Sir Humphrey Davy a scientific award (which makes me wonder, why? Why would he give an award to an Englishman since they were at war?).
What book, of the whole challenge, was your favorite new-to-you book or author? What was your favorite re-read?
My favorite re-read is The Two Towers [the second in the LOTR trilogy]. Hmm… It's very hard to think of my favorite new-to-me book. I really enjoyed Sweep by Jonathan Auxier, and I also enjoyed Anne of Green Gables, too.
Is there a category you now enjoy more than you thought would? Why?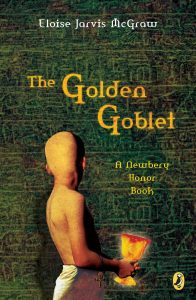 Historical fiction. With most of the historical fiction books we've read, there have been fight scenes. I like the fight scenes for some unknown reason. I also like adventure and teamwork. I like a book where the main character needs help and isn't also succeeding and doing everything by himself. In most of the historical fiction books I've read, there's at least one secondary character helping the main character out. For example, Sir Percy Blakeney [The Scarlet Pimpernel] can't always free the French aristocrats during the French Revolution by himself; he needs the help of this group of men who are helping him to save the aristocrats. Without them, he probably wouldn't have been able to rescue anyone. I get a better feel for the history that's around that time period, too. The Golden Goblet gives you a better sense of the mythology of ancient Egypt, the jobs you might have had, and how people treated each other, depending on their rank in society.
What category was hardest to find books for?
Book Recommended by Someone. I'm not very comfortable with talking to people and asking them for recommendations. Sometimes, they recommended hard books or books I wouldn't have chosen on my own (like The Chestnut King).
What were some of longest books you read or listened to?
The Silmarillion, Price and Prejudice, The Lord of the Rings, The Scarlet Pimpernel, Echo, Tom Sawyer, Anne of Green Gables, The Chestnut King
What picture books did you read for the challenge?
The Tale of Peter Rabbit, The Tale of Jemima Puddle Duck, Waiting is Not Easy, It's Springtime Mr. Squirrel
What are some of the graphic novels you read?
The Nathan Hale books–all 8!
How did you keep track of your books? Did you record the date completed? Plan titles in advance for certain categories?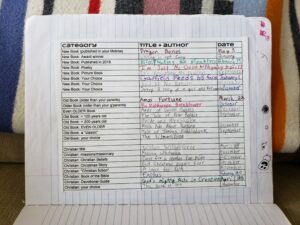 I kept track of date completed, and I also planned some titles in advance for certain categories. For fantasy, I already knew most of the books I wanted to read, so I went ahead and wrote them down, adding dates when I finished them. I kept the printable tracker in a composition book (glued the pages in) that I also used for my reading journal. I didn't keep up very well with my reading journal, but I kept listing the reading challenge books on the tracker.
Are you going to do the challenge in 2019?
Absolutely, of course!
Do you have any tips for other kids or teens who are thinking about doing one of the challenges? Is there anything you will do differently?
Get all the biographies done with! I'll read the harder categories first and save categories like fantasy for the end.
And that's a wrap! Thanks to my daughter for her participation. Do YOU have a teen who is planning to take on the challenge? Tell us in the comments!
More than 75 books for children and teens, all about islands, oceans, and more. Bonus: get a free hand-drawn reading tracker!
Reading Ahead for You
Reviews and Resources Weekly in Your Inbox