Imagination literally runs wild in Inkling, the latest middle-grade novel from popular novelist Kenneth Oppel.
Inkling by Kenneth Oppel, with illustrations by Sydney Smith.  Knopf, 2018, 239 pages.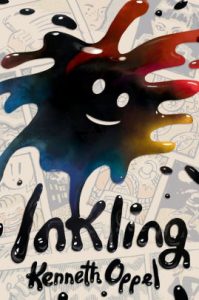 Reading Level: Middle Grades, ages 10-12
Recommended for:  ages 10-14 (ages 8-15 as a read-aloud)
Nobody knows how it happened, because only the cat saw it.  Wind blew across Mr. Rylance's open sketchbook and the drawn figures coalesced in a blob of ink.  Then the ink rose right off the page, tensed, stretched, and leapt onto the drafting table.  "It swirled round and round, spinning itself into all kinds of strange and beautiful shapes.  Like it was celebrating its freedom."
Meanwhile, at school, Ethan Rylance is struggling to draw just one recognizable figure for his group's graphic-novel project.  Everyone assumes he's an amazing artist like his dad (creator of Kren, the greatest comic-book hero ever), but Ethan didn't get that gene.  He also carries additional burdens after the recent death of his mom, Dad's despondency, and his sister Sarah's increasing demands on his time.  (Sarah has Down syndrome, so she's a little more work for everybody.)  Mom held the family together; now it's falling apart.  And now there's this reanimated blob of ink, who can draw anything, is quickly learning to communicate, and is almost impossible to hide.  At least Ethan gets to name him: Inkling.  And maybe Inkling is the secret of his missing artistic talents . . .
An ink blob emerges as one of the most loveable characters in recent children's literature: excitable, naïve, charmingly impressionable (his efforts to imitate the style of every author he reads—or rather absorbs—will make grownup readers smile).  But he doesn't upstage the other characters, who emerge as engaging in their own right.  Beyond its Comedy-of-Errors plot, the book has much to say about human creativity, integrity and imagination.  Readers of all ages will enjoy the ride.
Also by Kenneth Oppel: The Nest, Airborne, This Dark Endeavor
Cautions: None
Overall rating: 4.5 (out of 5)
Worldview/moral value: 4
Artistic value: 5
More than 75 books for children and teens, all about islands, oceans, and more. Bonus: get a free hand-drawn reading tracker!
Reading Ahead for You
Reviews and Resources Weekly in Your Inbox