Fresh, colorful illustrations decorate this reprint of The Jesse Tree as told by master storyteller Geraldine McCaughrean.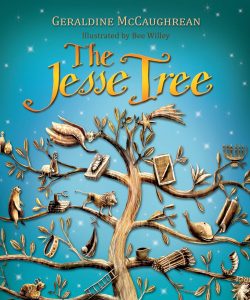 The Jesse Tree by Geraldine McCaughrean and illustrated by Bee Willey. Lion Hudson, 2018.
Reading Level: Middle grades, ages 8-12
Recommended For: All ages as a read aloud or ages 8 and up as an independent read
The Jesse Tree is a tree full of symbols representing key stories in God's grand plan of redemption, from Creation until Christ's Incarnation. We often talk about the Jesse Tree as part of our Christmas traditions, but it's really an "anytime" tree! In McCaughrean's version, crotchety Mr. Butterfield is carving a Jesse Tree for a local church during one summer when a young boy visits the church. Curious, the boy starts questioning Mr. Butterfield about his carvings. Hmph, Mr. Butterfield thinks. He doesn't like being interrupted. And the boy has some nerve! Once, he brings a dog–a dog–into the church. Another time, it's ice cream or a little brother. And always questions.
As Mr. Butterfield begins retelling the biblical stories that match his various carvings, the grand narrative of Scripture unfolds in the hands of a gifted storyteller. Some parents may quibble with Mr. Butterfield's accuracy, but it's hard to resist the sheer power of story in this book. Biblical characters come to life as they sweat, work hard, wonder, delight, and laugh. Weary and poor, Mary and Joseph arrive at the stable just in time; Mary's been feeling contractions already and this baby is going to be born tonight.
Predictably, Mr. Butterfield softens as the book progresses. But McCaughrean doesn't turn this into sentimental fare. No, Mr. Butterfield's thawing is almost imperceptible at first; his final carving is a sweet ending to a large story. And when he and the boy look at the nearly completed tree, their conclusions are perfect:
"'It's like you said once,' Mr. Butterfield recalled. 'Jesus was like the sheep who died in place of Isaac. He was like that offering on Elijah's altar. He was God's ultimate rescue plan!'

'He was like David slaying the big bad giant!'

'He was the way back to Paradise Garden!'

'He was the ram God gave to Abraham!' …

'He's Once-upon-a-time and The End!'"
McCaughrean's Jesse Tree has been out for a while, but a brand new edition with fresh, bright illustrations is hot off the press. The new version is a large picture book in paperback format, but it's made well with thick, glossy pages. We've reviewed Ann Voskamp's Unwrapping the Greatest Gift here on Redeemed Reader. The two are quite different from one another. Voskamp's prose is more flowery, and her text is more overt in its constant pointing to Christ. McCaughrean is more subtle, but her conclusion is, nonetheless, clear. It's worth noting, too, that the symbols are occasionally different from one another. Both have merit, but it will depend on the reader as to whose style is preferred.
Cautions: none
Overall Rating: 4.75
Worldview Rating: 4.75
Artistic Rating: 4.75
More than 75 books for children and teens, all about islands, oceans, and more. Bonus: get a free hand-drawn reading tracker!
Reading Ahead for You
Reviews and Resources Weekly in Your Inbox