*Unwrapping the Greatest Gift: A Family Celebration of Christmas by Ann Voskamp. Tyndale, 2014. 154 pages.
Reading Level: Picture Books, ages 4 and up
Maturity Level: 2 (ages 4-8) and up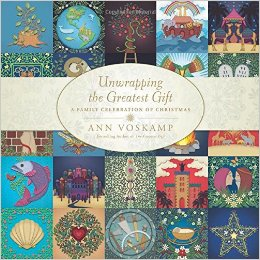 Imagine a priceless gift that was given when you didn't deserve it, something you could never earn. What if it could never be taken away, couldn't possibly be any better, could never disappoint you or wear out, and couldn't even fit inside a package or underneath a bow?
That amazing, incomparable gift is the love of God, as Ann Voskamp repeatedly describes in Unwrapping the Greatest Gift as "an unconditional, unbeatable, unfailing, unwrappable love."
Voskamp applies her love of words to a family advent devotional on the Jesse Tree tradition, using Scripture and drawing out the deeper meaning of stories of folks in the genealogy of Christ and also of the prophecies that point to His coming. Beginning in Genesis 1 on December 1, each day's reading includes a passage of Scripture and an exploration of the extraordinary love of God towards undeserving sinners in sending Jesus to save lost, broken, and unworthy people. The reading ends with questions to discuss and an activity, often suggestions for reaching out in love to others. Each story is represented by a symbolic ornament that may be downloaded and printed, made by hand, or purchased, then hung on a tree.
Her zeal to portray the love of God is contagious and thought-provoking as she strives to show the compassionate, merciful heart of God. One example is in the reading on the Ten Commandments in which she shows the covenantal purpose of God towards His people:
Here, I take you to be Mine, and you will be the one I will love more than anything—so have nothing in your life you love more than Me.

Here, I give you My name—My very name to make you Mine—so please do not say My name without love."
The illustrations are beautiful, and the book is large enough that everyone should be able to see the pictures without arguing. This is a lovely way to introduce or enhance a wonderful family tradition that glorifies the love of God for His people and the coming of our Savior.
Cautions: none
Overall Value: 5 (out of 5)
Moral/worldview value: 5
Artistic value: 5
Categories: Picture Books, Starred Review, Christianity, Devotionals, Holidays
Cover image from Amazon.  A free copy of this book was received from publisher in return for a fair review.
*indicates starred review
Please follow and like us: