Enjoy both Handel's Messiah and the season of Advent with this succinct-yet rich-guide to both. A good Advent family devotional option for busy families!
*Hallelujah: A Journey Through Advent with Handel's Messiah by Cindy Rollins. CiRCE Institute,  2017. 96 pages.
Recommended For: All ages.
Handel's Messiah is the first piece of "Christmas music" we turn on each year. Naturally, we don't listen to Christmas music officially until the day after Thanksgiving, . . . but since Messiah is not *technically* Christmas music, it gets a pass for earlier listening. We've taken our kids to enjoy a local production of the oratorio. At well over two hours, this was an experience for all of us. We plan to experience it again this year.
Is this a tradition for your family as well? There is perhaps no richer source of musical expression with which to celebrate Advent and Christ's birth as we soak up the Scripture being sung.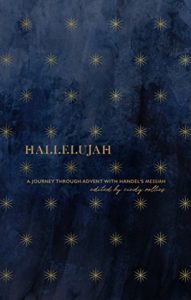 But what if your experience could be even richer? This short, succinct guide to Messiah offers to make it so: each week of the Advent season includes a brief reflection by a musicologist on what to listen for in that week's musical selections. A parent could read this portion to older children or simply read it on his or her own in preparation. Each day specifies which track of the oratorio to listen to, accompanied by Scripture references to read. Bonus: each day's selections also include a time frame so you can plan accordingly (most are in the 10-15 minute range).
Listen to the track in the car as you run the many Christmas-related errands, and read the Scripture passages at dinner. Complete the entire day's listening/reading in one sitting at breakfast. Work this into "Morning Time" if you are homeschooling. Take the guide with you on your road trip to grandma's, streaming appropriate tracks from Spotify while you're in the car. Lots of simple ways to work this into a busy season: it is worth it to slow down for 10-15 minutes each day wherever you are to meditate on God's word and listen to some beautiful music! Hallelujah also includes recipes, a few memories of family traditions, and a lovely introduction by Cindy Rollins.
If you are interested in making Messiah part of your family's Christmas traditions, this is a perfect accompaniment. If Messiah already IS part of your family's Christmas traditions, this is a fantastic way to enrich that tradition. Highly recommended.
Note: You can pre-order this guide from the CiRCE Institute  (orders will ship November 15), or purchase a Kindle copy (see link below) from amazon. In most cases, we prefer print editions. However, this particular book works well as a Kindle version. There are no images in the book itself, and the daily "script" is quite short. If you are traveling over the holidays and want to keep listening as the book directs, consider the Kindle edition!
We've reviewed two other Messiah-related Advent resources that are worth checking out as well. The Handel's Messiah Family Advent Reader is an excellent, though out-of-print, option that adds in more reflection as well as classic artwork. Every Valley is an interesting option for adults and older teens that reflects on the Scripture passages used in Messiah, pondering their implications for creation at large.
Thanks to CiRCE Institute for a free copy of this book in return for a fair review! *indicates a starred review
More than 75 books for children and teens, all about islands, oceans, and more. Bonus: get a free hand-drawn reading tracker!
Reading Ahead for You
Reviews and Resources Weekly in Your Inbox