In the fundamentalist church where I grew up, we never did advent.  I never even understood what the word meant until well into my twenties, when we began to visit other churches.  The practice of advent, whether in family devotions or in church, can grow as stale and rote as any other, but it's something I'm rather sorry to have missed.
While I wasn't looking, a lot of good family advent readers have been published, and I would love to write about some of them except that it's a little too late for this year.  (We've already got a calendar loaded for next year!)  However, a dear sister at church had us over for tea a couple of weeks ago to talk about advent plans, and she introduced me to a book I had to borrow for a closer look.  The bad news: it was published in 1999 and is now out of print.  The good news: you can get still find it online for ridiculously cheap ($10 for lovingly worn) or ridiculously expensive (starting at $40).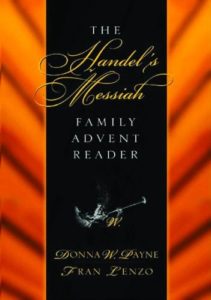 The Handel's Messiah Family Advent Reader, as the title suggests, takes one reading per day of the four weeks leading up to Christmas and pairs it with a selection from the world's best-loved oratorio.  In 27 days—Christmas day not included—the family will have listened to 26 arias and choruses and reflected on the biblical significance of each text.  The daily readings freely range over time and space, beginning with "Why the Gentlemen Couldn't Wear Swords," about the first performance of Messiah, and coming full circle on Christmas Eve to "Why the King Stood Up."  In between, the family will learn about the Christmas Truce of 1914, the Flying Snakes of Ubar, the character of gold, frankincense, and myrrh, the nature of light, the origin of caroling, Charles Dickens' inspiration for A Christmas Carol, the geography of Bethlehem, the Highway 50 Christmas tree, and other lore that shows God's work and God at work.
The Messiah Advent Reader is best suited for ages eight and up; younger children may lose interest on some of the longer readings.  For those who are still paying attention, a supplemental section includes more details about the reading, further definitions, additional Bible references, and ways to "Dig Deeper" into the subject of the day.
But the music—that's something everyone should have in their mental library.  We all recognize "Hallelujah!" (which is actually not my favorite chorus in Messiah), but what about "He Shall Purify" or "All We Like Sheep"?  How many of us have ever shivered in anticipation when the bass sings "But the Lord shall arise upon thee," with its ascending melody, or listened for the last angel leaving the sky after "Glory to God in the highest"?  I've been privileged to participate in two Messiah productions, and both were soul-stirring experiences.  I wrote about one of them here.  If Messiah is not part of your Christmas plans, consider its inclusion.  Dust off the old CD or cassette tape, or start perusing the community calendar for sing-alongs or University performances.
Remember that appreciation grows with familiarity: if the kids don't fall in love with the music at first hearing, give it another hearing.  Pick two or three favorite choruses and one or two solos; keep playing and listening, and chances are they'll come around.   You might listen to some of the Messiah samples from Hallelujah Handel! of the Classical Kids audio series.  For more background on Handel, see Handel at the Court of Kings, by Opal Wheeler.   And if you're totally in the dark about teaching music, Emily suggests taking a look at Squidoo for ideas.
As I mentioned, used and new copies of The Handel's Messiah Family Advent Reader are available, but since it's out of print, your best bet is online booksellers: try Amazon, Barnes & Noble, ABE, and Half.com.  Some used copies are missing the CD.  That's not necessarily a problem, if you have a high-quality recording or choose to invest in one.  One drawback of the book is that it doesn't list the musical selections for each day, but we can do that here: 1. Hallelujah!; 2. Comfort ye; 3. Every valley; 4. And the Glory; 5 Thus saith the Lord; 6. But who may abide; 7. And He shall purify; 8. Behold, a virgin shall conceive; 9. O thou that tellest good tidings; 10. For behold darkness; 11. The people who walked in darkness; 12. For unto us a child is born; 13. There were shepherds; 14. Glory to God in the highest; 15. Rejoice greatly; 16. Then shall the eyes; 17. He shall feed his flock; 18. His yoke is easy; 19. He was despised; 20. Surely, he hath born our griefs; 21. And with His stripes we are healed; 22. He was cut off from the land; 23. How beautiful are the feet; 24. Why do the nations rage?; 25. I know that my Redeemer liveth; 26. Worthy is the Lamb; 27. Hallelujah!
Whether or however you celebrate advent, it's time to get ready.  Christ came in time, he comes to each believer's heart, and he is coming again: yesterday, today, and forever.  Come, Lord Jesus!
Do you have any personal experiences with Handel's Messiah?  What are your favorite selections?  I'll tell you mine if you tell me yours!  Also, if you have any favorite advent readers, please share with us.  We'll try to review them in a more timely fashion next year!
Please follow and like us: