A girl struggles to reconcile her needs with her mother's severe mental illness, in this winsome story with some unforgettable characters. Ages 10-15
The Unforgettable Guinevere St. Clair by Amy Makechnie.  Athenaeum, 2018, 322 pages.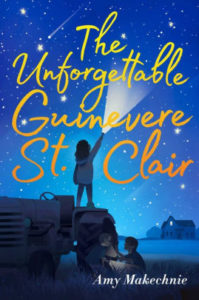 Reading Level: Middle grades, ages 10-12
Recommended for: ages 10-15
"My father said that some people were harder to love, but it bothered me, how excruciatingly hard it was."  It should be easy to love one's mother, at least most of the time.  But ever since Guinevere's mother suffered a debilitating brain injury, she now has the mind of a six-year-old and doesn't remember growing up, marrying, or having babies.  Guin and her sister can't even call her Mom—she's Vienna, whose memories are all stuck in her home town, Crow Iowa.  That's where Guin and Bitty's dad moves them, in hopes that old memories will stimulate new ones.  It doesn't seem to work—Vienna is as mercurial and difficult as ever, but at least Guin has some distractions.  These include bold Jimmy, sweet Micah, and Micah's towering, overbearing mother Gaysie—who, Guin is convinced, tried to kill her the day they met.  Guin has further grounds for suspicion when neighboring farmer Wilbur Trusdale disappears under mysterious circumstances.  Could foul play be involved?
It's an interesting premise with fascinating characters.  The mysterious works of the human brain and its memories are key: How much of self is wrapped up in memory? And are some things better off forgotten?  Guin's voice is engaging from the first, and from her perspective many other characters, notably Jimmy and Micah, spring to life.  Guin herself is less believable, at least to me.  She's ten, with adult ambitions and an adult vocabulary and firm opinions that are hard to shake even when demonstrably wrong.  A childish trait, but she's not very childlike.  More tough-as-nails.  If that's what life has taught her, she seems a bit too young to have learned these lessons, and her near-saintly father should have had some mitigating influence.  There's room for religious faith and church, but no sure hope beyond human relationships: "I wanted there to be a reason for everything that had happened, but maybe, like so many things, there wasn't any."  For such a strong story and characters, this seems a rather wishy-washy conclusion.
Cautions: Disturbing images (missing finger, corpse in river)
Overall Rating: 4 (out of 5)
Worldview/moral value: 3.5
Artistic value: 4.5
Please follow and like us: