A Stitch in time, a quiet story about death, grieving, and change, takes place in the Vermont countryside of 1920.  Ages 10-15
A Stitch in Time by Daphne Kalmer.  Feiwel & Friends, 2018, 167 pages
Reading Level: Middle Grades, ages 10-12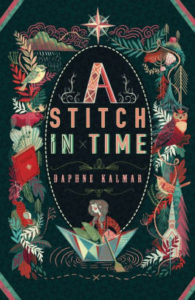 Recommended for: ages 10-15
It was only two weeks ago that her father was killed—survived the Great war, only to meet his end in an auto accident.  Now Dorothy, better known as Donut, is an orphan, since her mother died at her birth.  Her Aunt Agnes, a proper, starched lady Donut barely knows, is here to see to all the things that need to be seen to when someone dies, including an 11-year-old orphan.  But soon Agnes reveals her plan: to take the girl back to Boston and enroll her in the female academy Agnes runs with her sister Jo.  All Donut wants is to be left alone to read her geography books.  Also explore the Vermont woods with her friend Tiny and learn Taxidermy from her father's friend Sam.  But none of these, to Agnes's mind, are fit occupations for a young girl.  The only solution Donut can see is to run away.  But the deep woods in winter hold dangers she doesn't anticipate.
Rather than a survival saga, this is a psychological drama about coming to terms with death and change.  Donut is a well-rounded character, sympathetic and prickly by turns, who makes some foolish but understandable decisions while trying to dictate to the grownups.  Dictating to the grownups seldom works.  At least, it's not supposed to, because sometimes the grownups actually know what's best.  Donut has to learn that, and also learn that no one is self-sufficient.  And there's more to Aunt Agnes than meets the eye.  As Sam the taxidermist says, "Many people have stories that would surprise you." This is a quiet story, told in vivid imagery and solid characterization, that may surprise you.
Cautions: None
Overall Rating: 4 (out of 5)
Worldview/moral value: 3.5
Artistic value: 4.5
More than 75 books for children and teens, all about islands, oceans, and more. Bonus: get a free hand-drawn reading tracker!
Reading Ahead for You
Reviews and Resources Weekly in Your Inbox