A realistic sports story that is so much more than a sports story, Tangerine blends soccer, environmentalism, bullying, racism, and physical disability into a well-written, thought-provoking middle grades read.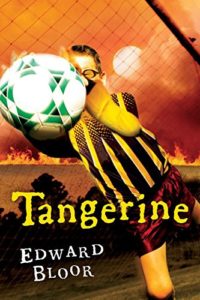 *Tangerine by Edward Bloor. HMH Books for Young Readers, 2006 (reprint; originally published 1997). 312 pages. 
Reading Level: Middle grades, ages 10-12
Recommended For: Ages 10-15, especially sports fans!
Paul Fisher and his family have just moved to Florida to a wealthy, pristine subdivision full of white, wealthy, pristine people; his older brother, Eric, is poised to pursue the "Eric Fisher football dream" while Paul is planning to continue his middle school soccer stardom. When Paul's mother tells the school he is visually impaired (which he is), the new school won't let him play soccer! As if that weren't enough pain, his older brother continues to be a real jerk, the mosquitoes (and the accompanying mosquito spray) are truly terrible, and a giant sinkhole swallows half his school. Paul ends up at the predominantly Hispanic middle school down the road and soon realizes that there's much more to life than his parents' version of the American Dream. He also begins to understand his brother's true character in ways that slip by their parents.
Tangerine is a sports novel. And a novel about bullying. A novel that grapples intelligently with environmentalism and a novel that dives deep into family relationships. Friendships, racism, sports politics, parent-child relationships, physical disabilities–it's all here. Usually that means that the novel is taking on too many issues and not doing justice to any of them. In this case, however, Bloor manages to weave the issues into one compelling story that works. Strong characterization, plenty of sports action and emotions, interesting secondary plots, and terrific imagery make for a rich literary experience that both boys and girls will enjoy. Pay attention to the bird images, the many references to seeing/eyesight, and the ways in which the treatment of the natural world by various parties becomes a metaphor for their treatment of one another. Ask your children/students how Paul Fisher might be similar to the apostle Paul (hint: visual difficulties yet a clear vision of spiritual/emotional truth).
Overall Rating: 4.75
Artistic Rating: 4.75
Worldview Rating: 4.5
*indicates a starred review
For other middle grades sports novels that blend some similar thought-provoking elements, see The Crossover and Rebound, both by Kwame Alexander, and Ghost and Patina, both by Jason Reynolds.
Support our writers and help keep Redeemed Reader ad-free.