A kid from "the projects" learns to put speed in service of character building and achievement.
*Ghost by Jason Reynold.  Atheneum, 2016, 180 pages
Reading Level: Middle Grades, ages 10-12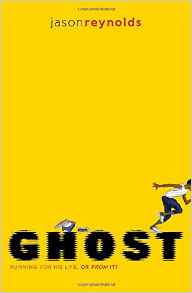 Recommended for: ages 10-15
Castle Crenshaw, better known as "Ghost," knows he's fast, ever since his father chased him and his mom out of their apartment waving a gun—and actually shooting at them.  Since then, "I got a lot of scream inside."  It comes out when he gets pushed or shoved or messed with.  But when he stages an impromptu race with an irritating member of a neighborhood track team, the team coach starts messing with him in an entirely new way that takes some getting used to.  Despite his early resistance, Ghost liked the competition and the sense of going somewhere, until he takes a wrong turn through a store called Everything Sports.
Short but poignant, the story lopes right along and delivers on every front—character, plot, theme, style.  Though the premise is sad, and other kids on the track team have sad stories too, the tone never drags down in gloom.  In running, speed isn't everything.  It also matters where you're running to.  As Coach says, "You can't run away from who you are, but what you can do is run toward who you want to be."  By the final page Ghost is on the right track though it was by no means a given that he'd get there.  His major transgression is understandable but not justified, and though he feels bad about it, his conscience—the conscience of a basically decent pre-teen who hasn't had an abundance of moral direction—adjusts rapidly once it seems he won't be caught.  He needs a responsible adult to straighten him out, and he gets one.  Would that all fatherless boys in the projects were so lucky.  The story ends as it began, with a POW! from a gun, but this time Ghost isn't running away—he's running toward.
Note: Ghost is the first title in a new middle-grade series called Track, based on the author's experiences on an inner-city track team.
Also by this author: All American Boys, When I Was the Greatest
Cautions: Depressing situations
Overall Rating: 4.75 (out of 5)
Worldview/moral value: 4.5
Artistic value: 5
Please follow and like us: