Readers eager for more tales from Tyme will be disappointed by a story that is for more political than its precursor.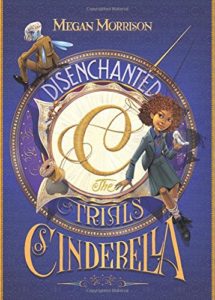 Disenchanted: The Trials of Cinderella by Megan Morrison.  Arthur A. Levine Books, 2016.  416 pages.
Reading Level: teen, ages 10-12
While Grounded was a fairytale romp with thought-provoking themes and engaging characters, Disenchanted tackles weightier material.
Ella Coach has gone from rags to riches, and she hates it.  The first chapter finds Ella running away from her fancy prep school, hoping to escape her arrogant, entitled classmates. Ella's anger against the establishment is deeply personal since her  mother died after years spent in a sweat shop.
Prickly and passionate, Ella makes an unusual friend —Prince Charming, who prefers to go by "Dash."  Meanwhile, superintending Ella's fortune are Serge and Jasper —two fairy godfathers.  (In addition to this role-reversal, the career has become politicized by the Glass Slipper godparent business.)
Morrison is a gifted author and the cleverness of her tale is undeniable.  However her focus on Ella and Dash's growing passion to reform sweat shops loses the charm of faerie.  In addition, Ella's obsession for reform and fair labor feels forced and almost preachy.
More troubling though are casual LGBTQ references throughout the story.  (It was hard to miss the hints of a growing attraction between the two fairy godfathers, and other characters speak causally of being homosexual.)  Though clean, this is not a story of redemption.  Subplots include marital infidelity, abandonment, and willful independence.
All in all, a far cry from fairyland that will leave readers disenchanted.
Cautions: Worldview & Sexuality (See above)
Overall rating: 2.5 (out of 5)
Worldview/moral value: 2
Artistic value: 3
More than 75 books for children and teens, all about islands, oceans, and more. Bonus: get a free hand-drawn reading tracker!
Reading Ahead for You
Reviews and Resources Weekly in Your Inbox