Sunny takes us into the interior life of a track runner who doesn't want to run–so how can he stay on the team?  Ages 10-14
*Sunny by Jason Reynolds (Defenders Track Team #3).  Atheneum, 2018, 159 pages.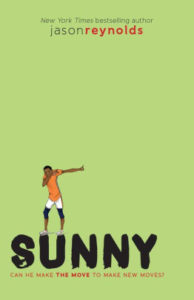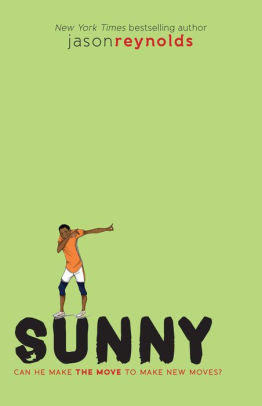 Reading Level: Middle Grades, ages 10-12
Recommended for: ages 10-14
Sunny Lancaster is "Master of the Mile."  When he steps up to the starting line everyone knows he's going to blow away the competition.  What they don't know is that running isn't his thing.  He only runs because he was supposedly born to it, on the same day his mother died.  Yep: he came, she went because of a rare kind of blood poisoning that stopped her heart.  Now Darryl, Sunny's dad (who doesn't want to be called Dad) seems to think running is his destiny because he's fast like her.  Nobody knows that Sunny hears inaudible sounds and rhythms that make him dance to an interior beat—nobody except his Dear Diary, which Aurelia, his homeschool tutor, has encouraged him to take up.  But those sounds and rhythms are the reason why, near the finish line of his last race, Sunny stopped running.  Just stopped.  Coach doesn't know what to make of it.  Darryl doesn't know.  Neither do Ghost, Patina, or Lu, his fellow Defenders.  Sunny himself can't explain how he can stay on the team, even though he won't run.
This is the third of Jason Reynolds' "Track" series, following Ghost and Patina.  Each volume has its own voice and integrity, but Sunny's voice may be the most distinctive—and difficult to get into because of its stream-of-consciousness style.  His thoughts are "all over my head.  Some are in the back and some are in the front and some are tucked behind my ears and others pressing hard against my eyes."  Those sounds he hears may be inaudible to the reader (skwilurp bleep blurp squish) but give it a little time and the voice will grow on you.  I found myself often reading aloud.  This is a story of deep-rooted grief and misplaced ambitions and tangled desires that begin to untangle at the end, all within the experience of a fully-realized 13-year-old kid.  Sunny is relatable, yet all his own, and the reader's experience is expanded by spending time with him.
Also by Jason Reynolds: When I Was the Greatest, Long Way Down
Cautions: None
Overall rating: 4.75 (out of 5)
Worldview/moral value: 4.5
Artistic value: 5
More than 75 books for children and teens, all about islands, oceans, and more. Bonus: get a free hand-drawn reading tracker!
Reading Ahead for You
Reviews and Resources Weekly in Your Inbox