A black teen in the 'hood struggles to maintain his focus when his best friend takes a wrong turn with potentially serious consequences.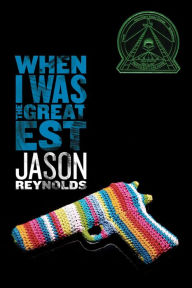 When I Was the Greatest by Jason Reynolds.  Atheneum, 2014, 230 pages.
Reading Level: Young Adult, ages 12-15
Recommended for: mature teens, ages 15-18
Even though Allen (Ali) and his little sister Jasmine (Jazz) live in the Bedford-Stuyvesant part of Brooklyn and some of their neighbors are not upstanding citizens, their mom (Doris) is trying to raise them right.  Their dad, too, when he's around.  Unfortunately the folks don't see eye to eye on what's right, and after John's previous stint in jail Doris has kicked him out of the house.  Her firm veto power is also the reason why Ali doesn't have many friends, but he's cool with that, especially after Roland and Ricky move in to the brownstone next door.  Jazz, who has a way with nicknames, christens Roland as Noodles after he scarfs down the plate of spaghetti Doris offers him.  Ricky takes a little more time because he's different.  He has a syndrome called Tourette's, and it's disconcerting when he yells insults at you with no warning.  But when Doris, a social worker who sees all kinds, helps him focus by teaching him to knit, Ricky gets his nickname—Needles, because he's seldom without them.
Since their mother lives most of her life in a druggy haze, N & N become unofficial members of Ali's family—all for one and one for all, until Noodles wrangles an invitation to one of the legendary parties given by the neighborhood rich kid.  Mama would have told them not to come, if she'd only known.
The story rolls out at the unhurried pace of the neighborhood as we get to know Ali's world, character by character.  It's all about family: how it happens or doesn't, how it's formed, how it's broken, and what it takes to fix it.  And it's about black culture; hardly a white face to be seen in the 'hood.  The voice, the word patterns, the gestures and signals all ring true, and a bit foreign to white Midwesterners.  But underneath we're all the same in our need for acceptance and belonging.
Family is family.  You can't pick 'em, and you sure as hell can't give them back.  I've heard it a zillion times because it's my mom's favorite thing to say whenever she's pissed off at me or my little sister Jazz . . . and with my mom, yelling ain't just yelling.  She gives it everything she's got, and I swear it feels like her words come down heavy and hard, beating on us as bad as a leather strap.
Ali is basically a decent, churchgoing kid who makes some bad mistakes (with consequences that could have been disastrous).  Given the setting, the language is restrained: occasional mild swear words, some s-words sprinkled about, no f-words, and little profanity except for two cases of "Jesus Christ" toward the end.  Ali is also involved in a fairly graphic seduction scene at the party, but wisely decides he's not ready for sex.  These factors may disqualify the book for some readers, and we understand.  For others, it may be an instructive window into a thoroughly American, and (for most of us) alien culture.
Cautions: Language (see preceding paragraph), sensuality (one failed-seduction scene)
Overall Rating: 3.75 (out of 5)
Worldview/moral value: 3.5
Artistic value: 4
Support our writers and help keep Redeemed Reader ad-free.